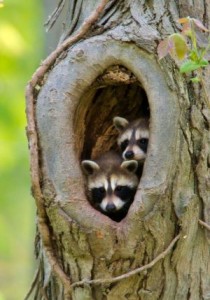 On May 1st, 2014, the Hamilton Conservation Authority (HCA) Board of Directors approved a staff recommendation that a Wildlife Management Committee be established to develop best management protocols for managing wildlife on HCA lands. The HCA Wildlife Management Committee (WMC) was subsequently formed and included staff from different program areas and divisions, including Ecology and Conservation Area Services, to ensure there were varied perspectives and experiences for the WMC to draw on.
The WMC met several times over the 2014-2015 period to review current HCA practices, document existing wildlife management rules and regulations, and consult with experts, agencies and other groups that have an interest in wildlife management. Based on this review and consultation, the WMC developed recommended best management protocols and practices for the management of wildlife conflict on HCA lands.
The WMC's findings and recommendations were presented to the HCA Conservation Advisory Board on April 9, 2015 and the Board of Directors on May 7, 2015. The results and recommendations of the WMC's work have now been incorporated into a final report and strategy document, the Hamilton Conservation Authority Wildlife Conflict Management Strategy, which was approved by the HCA Board of Directors on December 3, 2015.
The Strategy was developed with the objectives of minimizing the potential for wildlife conflicts on HCA lands, supporting the environmentally sustainable management of HCA lands, providing for the safe enjoyment of HCA's Conservation Areas and the protection of HCA property, and promoting improved understanding of wildlife and wildlife conflict management issues. The Strategy is intended to be a living document, and may be updated as necessary to reflect new information and evolving best practices.
Final HCA Wildlife Conflict Management Strategy Nov 2015
Previous Reports:
For more information, please contact:
Mike Stone
Project Manager – Wildlife Management Committee
905-525-2181, ext. 133
Mike.Stone@conservationhamilton.ca