Ice Climbing at HCA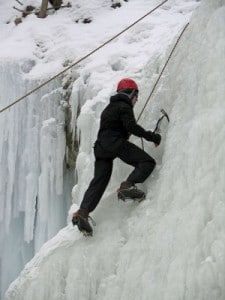 When the weather permits, the Hamilton Conservation Authority allows the use of Tiffany Falls through two organizations.
Climbers must be attending a booked session with either the Alpine Club of Canada (ACC) or OneAxe Pursuits.
These organizations are the only permitted ice climbing users, for safety reasons.  No individual ice climbing permits will be issued by the HCA.  Do not access Tiffany Falls without a permit through these organizations.