About the Hamilton Conservation Authority
Hamilton Conservation Authority, located at the western end of Lake Ontario, is the area's largest environmental management agency, and is dedicated to the conservation and enjoyment of watershed lands and water resources.
Our Vision
A healthy watershed for everyone.
Our Mission
To lead in the conservation of our watershed and connect people to nature.
What is a conservation authority?
We do more than just operate conservation areas! Conservation Authorities are local, community-based public sector organizations that are provincially legislated by the Conservation Authorities Act which was originally passed in 1946. The establishment of the Conservation Authorities Act was in response to extensive flooding, erosion, deforestation and soil loss resulting from poor land, water and forestry management practices in earlier years.
HCA Watershed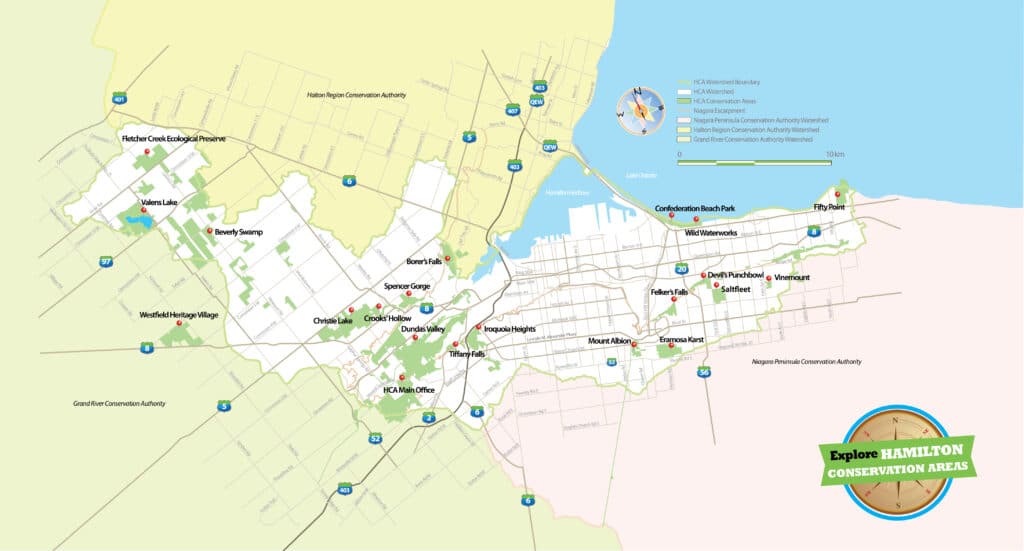 Key areas of Conservation Authority activity include:
Environmental Protection: The Conservation Authorities of Ontario protect local ecosystems and contribute to the quality of life in communities throughout the province.
Water Resource Managers: The Conservation Authorities are Ontario's community-based environmental experts who use integrated, ecologically sound environmental practices to manage Ontario's water resources on a watershed basis, maintain secure supplies of clean water, protect communities from flooding and contribute to municipal planning processes (that protect water).
Lifelong Learning: The Conservation Authorities of Ontario create educational experiences in a natural environment that enrich the lives of peoples of all ages, by instilling an appreciation and enjoyment of our diverse natural heritage.
Quick Links
Strategic Plan 2019-2023