Visitor Alert
HCA continues to closely monitor provincial and regional orders and restrictions and is committed to notifying you as soon as possible if your reservation needs to be cancelled. If any provincial restrictions are instituted that affect camping, it may result in the temporary closure of overnight stays.
If your reservation is affected by any temporary closures, you will be notified as soon as possible. Your reservation will be automatically cancelled, and you will receive a full refund.
Shower facilities remain closed at Fifty Point and Valens Lake.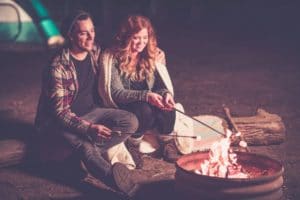 Camping at HCA
Whether you'd like to tent or trailer camp, HCA has it all! Sleep under the stars at Fifty Point or Valens Lake Conservation Areas. 

Please note that Valens Lake Conservation Area does not accept reservations after October 13. Sites are available on a first-come, first-served basis in the off-season.
Fifty Point does not permit tent camping, only camper and trailer facilities are available.
Valens Lake Camping Rules and Regulations
Fifty Point Camping Rules and Regulations