Black Friday Sale!!
For a limited time, purchase an HCA Membership Pass and save $10 off the regular pass price AND receive the remainder of 2023 FREE! Those who purchase online will also receive a free 2024 calendar for free, while supplies last! Discount applies to regular pass price only. Not applicable to senior, accessible, renewal and two year passes.
#ExploreHCA with an HCA Membership Pass
Your key to the Great Outdoors...
Becoming an HCA Member makes it easy for you and your family to enjoy our conservation areas and helps support the important work HCA undertakes.
As a Member, you and your family can enjoy year-round access to HCA conservation areas for 12 months from the date of purchase, for one great price! The pass will allow you and your vehicle passengers (up to 6 people total) into HCA conservation areas, including: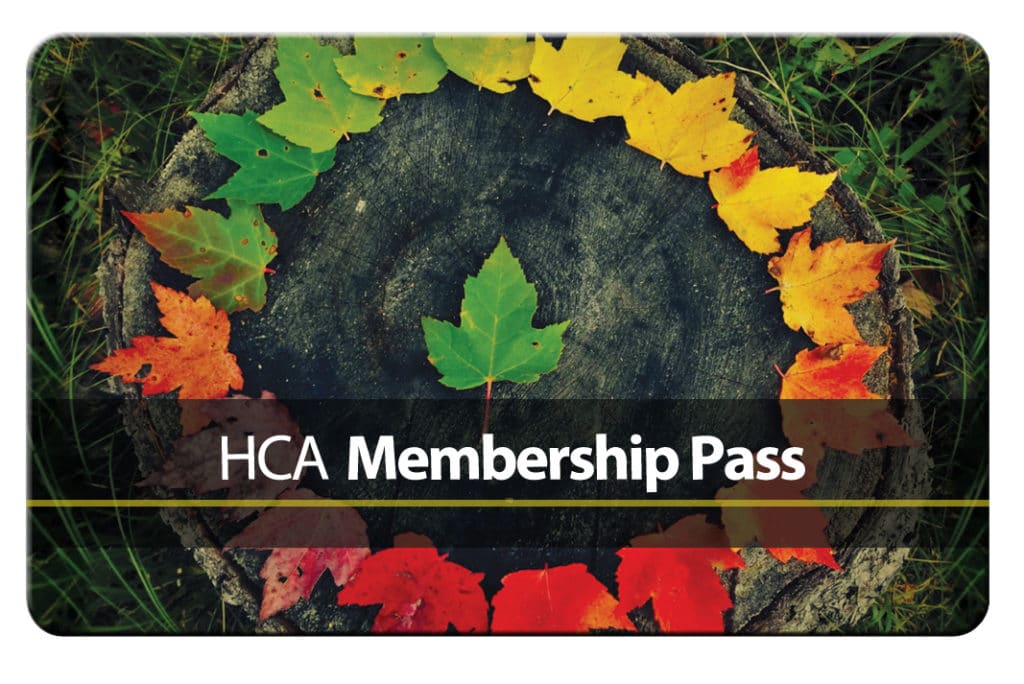 *Reservations required in peak season. Membership does not cover reservation fee.
Your Membership Pass comes with…
One day pass to share with friends and neighbours (pass is good for a carload of up to 6 people).
15% discount on HCA rentals (pavilions and group picnic sites).*

Early morning access with automated gates.

Year round access. All areas open 12 months a year.
Subscription to monthly e-newsletter.
*Discount not available for Confederation Beach Park, Wild Waterworks or wedding rentals.
Binbrook Conservation Area is not part of the HCA Membership Pass Program.
Membership Fees
Save money and time when you become a Member!
Save more than $25 off the cost of regular admission, each time you visit and visit four times and your pass pays for itself! (Based on a family of four.)
| Membership Type | Price | Description |
| --- | --- | --- |
| Regular | $120 +HST | Comes with all the exclusive rewards and discounts. Membership covers entry for up to 6 people traveling in the same vehicle. |
| Renewal | $110 +HST | Those renewing their membership within 60 days after expiry will receive the same great membership at a discounted rate. For example, if your pass expires January 1 you will have until March 2 to renew and receive the $10 discount. |
| Regular Two-Year | $220 +HST | Buy for two years and save! Two-year memberships come with two sets of reward vouchers (one for each year) and the same exclusive rewards and discounts. |
| Senior | $100 +HST | Those over 65 years of age can become a member at a discounted rate! Senior members will receive all the same exclusive rewards and discounts. Proof of age may be required. |
| Senior Two Year | $200 +HST | Enjoy the convenience of buying for two years in one stop! The same great two-year pass but at a discounted rate for individuals 65 years of age and older. Proof of age may be required. |
| Family Pass Plus | $180 +HST | Have a need to have more than one membership pass for the same household? Purchase our Family Pass Plus for an additional $60 of regular price! Only includes one rewards voucher booklet. |
Accessible memberships are also available and will receive all the same exclusive rewards and discounts. Proof of accessible parking permit may be required.
Membership Dollars
Every purchase of a pass helps keep our conservation areas open for the benefit of all. Many people believe conservation areas are paid for by their tax dollars, but that is not the case. Membership fees pay for trail construction and maintenance, emergency services, property taxes, insurance and all those little things we need to keep our conservation areas open.
Just as important, purchasing your membership contribute directly to important conservation work throughout our watershed. Membership dollars help protect, preserve and restore ecosystems, and heritage sites on HCA lands. They also assist with education programs.
Buy and HCA pass, and you'll not only get a great deal on the Great Outdoors, but you'll be protecting it for generations to come.
Become a Member
In person: Passes can purchased in person at several locations including Christie Lake, Dundas Valley, Fifty Point, Valens Lake and Westfield Heritage Village. Please call ahead if purchasing between Thanksgiving and Victoria Day to ensure staff are on site to assist you.
Passes can also be purchased at our office in Ancaster, located at 838 Mineral Springs Road. The office is open year round, except holidays, from 8:30a.m. – 4:30p.m., Monday to Friday.
By Phone: Orders can be placed over the phone with a credit card by calling, 905-525-2181. Passes are mailed via Canada Post and may take up from 8-10 business days to arrive.
Online: Membership Passes purchased online are mailed via Canada Post and may take 8-10 business days to arrive. You will be emailed a receipt as proof of purchase which may be used to gain entry while your pass is in the mail.  Purchase online now.