Horses & Equestrians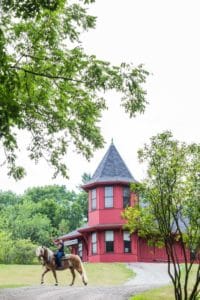 All trails in the Dundas Valley Conservation Area are open to equestrians.
Seasonal closures will be in effect during the fall and winter months – the Rail Trail remains open year round to horses.
Explore HCA on horseback and enjoy the areas in a whole different way. Horses are permitted in some HCA areas, and we ask that you familiarize yourself with the points below. HCA areas are closed on a seasonal basis due to ice and the spring thaw and during this time it will be posted on HCA's website.
Where to go?
Horses are permitted  on multi-use trails at Christie Lake, Dundas Valley and Westfield Heritage Village. Dundas Valley –  Parking for horse trailers is available at the main Dundas Valley parking lot, located at 650 Governor's Road. You'll also be able to enjoy the new day-use corrals in the main parking lot.
HCA Membership and Equestrians
The
HCA Membership Pass
allows one vehicle and one horse entry to areas horses are permitted.
What can you expect?
Inexperienced trail users who may not know what to do around horses or users who are intimidated by large horses.
What is your responsibility?
Galloping on HCA trails is NOT permitted.
Manage your animals and don't bring 'green' horses into HCA areas. Familiarize horses with expected trail encounters, such as; cyclists, dogs, strollers, etc.
Negotiate safe passes.

Greet users early. Hikers and cyclists should yield to horses, but many trail-users can be intimidated by horses or don't know what to do.
Keep to the right of the trail. When passing others, always pass in a single file at a walk.
Expect the unexpected. Small children, animals and the elderly can be unpredictable or frightened by horses.

Stay on trail at all times. Do not ride in mowed fields, into creek or stream beds or off designated trails.
Kick or otherwise remove manure from the trail.
Don't miss the Annual Equestrian Campout taking place in the Dundas Valley every August!