Winter Activities at HCA
Winter doesn't mean the end of outdoor life, but rather the start of a whole new season of activities that can't be enjoyed other times throughout the year! Have a look below for ideas of things to do this winter in our areas!
HCA encourages everyone to get out and enjoy our natural areas in any season, but with the arrival of winter weather come winter hazards. Follow the link for more information and how to keep yourself safe.
Please note, Valens Lake is not offering an ice skating trail loop.
Winter Safety at HCA
On Ice Activities – when conditions permit
Ice fishing and skating are two very popular winter activities on our ponds and smaller lakes when conditions permit.
Ice Fishing: Ice fishing is a great way to experience fishing in a new way! Ice fishing is available at Fifty Point at the marina and at Valens Lake.
Ice Skating: Fifty Point offers ice skating on the pond. Valens Lake has skating on the reservoir. Unfortunately due to weather conditions, Valens Lake ice skating trail loop is no longer available.
On Ice Safety: Do not walk out on to frozen lakes or ponds unless it is posted safe to do so. Follow all posted instructions and NEVER go out alone. You can check our online ice status indicator or contact the area before heading out for current conditions.
Please note, Christie Lake is NEVER safe for on-ice activities. The water here flows very quickly and makes for dangerous ice conditions, even if it looks safe. Obey all posted signage.  Dundas Valley also has no safe ice surfaces for on-ice activities.
Winter Trail Activities
Whether you prefer to ski, hike or snowshoe HCA has you covered with over 140km of trails! Check out our Hiking and Trails page for a more comprehensive listings of trails to explore!
Please note, trails are not maintained for snow and ice in the winter, and HCA does not clear, or sand/salt trails.
Cross Country Skiing: While HCA does not groom or maintain trails specific to cross country skiing, it doesn't mean there aren't a lot of great places to go! The trails on the south side of Christie Lake can be challenging in some areas but also very fun. Use the Round the Lake Trail and you'll get to ski across the dam. The Reforestation and G. Donald Trails in the Dundas Valley will be of particular interest to those looking for more challenging hills. Users are reminded to stay on the trail.
Hiking: With over 140 km of trails, there are plenty of places to go for a hike during the wintertime. A reminder that trails can be icy, even under snow and caution should be used. You may also want to invest in some creepers for a safer trek through the trails.
Snowshoeing: Step up your hiking game and try snowshoeing instead! It has been said if you can walk, you can snowshoe, and while mostly true you still may need some practice in perfecting your step. It is an excellent form of activity and exercise in the wintertime and is a great way to enjoy the trails! Users are reminded to stay on the trail.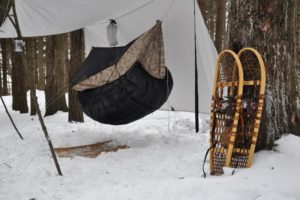 Other Winter Activities
Ice Climbing: When the weather permits, Hamilton Conservation Authority allows the use of Tiffany Falls. Climbers must be members of the Alpine Club of Canada (ACC), or be attending an ice climbing class with OneAxe Pursuits.  No individual ice climbing permits will be issued by the HCA.
Winter Camping: Valens Lake offers winter camping bookings. two ways to camp in the winter. Can you handle the cold weather and become a winter warrior? You'll never know until you try.