Natural Areas Inventory (NAI)
One of the most important functions of conservation authorities is the protection of natural lands. By reviewing construction and development plans in our watershed, HCA is able to protect important natural areas and the species of wildlife that inhabit them. But how do we know what plants, animals and amphibians live in certain areas in order to protect them? Nature Counts!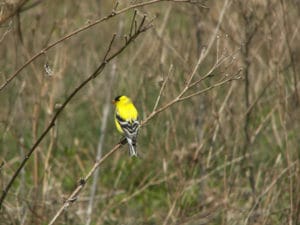 Introduction
Nature Counts is a Natural Areas Inventory (NAI), a complete inventory of natural areas in Hamilton, created so that current information on plant and wildlife species, vegetation communities, and site boundaries is available for agencies which are responsible for protecting and enhancing natural features. It was first carried out in 1991 by the Hamilton Naturalists' Club and partners and again in 2001-2002 with an inventory published in 2003. Partners are now planning an update to the NAI for publication in the summer of 2014. This project is a collaborative effort between the Hamilton Conservation Authority, the Hamilton Naturalists' Club, the City of Hamilton and other partners.
To carry out the inventory, field staff will study the natural areas in Hamilton to see if conditions have changed, if the rare species that were reported are still present, to check for new rare species, and to update information on the plant communities and the boundaries of the site for mapping purposes. They will also be examining some new natural areas that have never been inventoried. This work will be carried out in the summers of 2010 to 2013.
The Nature Counts study give us a great amount of information on where different plant and animal species occur and whether they are significant at a local, provincial, or national level.  This information tells us whether a particular natural area is especially deserving of environmental protection in the city's Official Plan based on its features and functions in the environment, and helps us make better decisions on how to protect these natural areas in a developing urban centre.
When the project is complete, agencies will have an updated tool that include a new natural areas summary document with complete inventory of flora and selected fauna, ecological land classification descriptions, evaluation and recommendations, a revised annotated species checklists of vascular plants, fish, breeding birds, mammals, butterflies, reptiles and amphibians based on new occurrence information and historical data and mapping of the core areas, vegetation communities, rare species locations, and rare habitats. Because these inventories will have been carried out each of the last three decades, the information will be a valuable monitoring tool for changes in natural areas and the species that inhabit them over time.
Nature Counts 2 Video
Wildlife Checklists
The What's Alive in Hamilton? wildlife checklists have been created for the public to use while out in Hamilton's natural areas.
Wildlife checklists are designed to add to the enjoyment of being outside by letting one know what species are in Hamilton and which may not! To use them, simply check off which species you see while you're out and about.
For resources that help you learn to identify specific species listed in the What's Alive in Hamilton? wildlife checklists, consult field guides, animal apps on smart phones, and participate in nature programs within your community.
Have fun, enjoy responsibly, and good luck!
Presentations
Nature Counts 2 presentation by Nicholas Schwetz, NAI Coordinator
Frog Learning Centre
If you are interested in knowing what species of frogs are in your backyard and neighbourhood, check out these amazing websites! These resources have datasheets for you to document your observations, and vocalization recordings so that you can listen and learn the calls. Happy frogging!
Amphibian monitoring is carried out by listening to frogs and toads and recording what you hear.
There are 9 frog species and 1 toad species in the City of Hamilton. See if you can find them all!
American toad
Bullfrog
Chorus frog
Grey tree frog
Northern leopard frog
Spring peeper
Wood frog
Mink frog
Pickerel frog
Green frog
Nature Watch's Frog Watch program
Ontario Nature's Ontario's Reptile and Amphibian Atlas
Partners and Supporters
The Natural Areas Inventory Project is generously supported financially by the Ontario Trillium Foundation. The Ontario Trillium Foundation is an agency of the Government of Ontario.