Environmental Education for Schools
Hello Teachers,
With the ever-changing circumstances around the Covid-19 pandemic, we know that providing programming for your students has become more challenging than usual. In an effort to support virtual teaching strategies while continuing to provide outdoor education in a safe manner, we are excited to announce we are now offering virtual programming! Please see below for our new programs and the attached document for further details, including registration information.
Option 1: Live Stream Virtual Sessions –These 45-minute sessions are directly linked to grade levels of study and curriculum requirements. Many of the sessions include worksheet materials which reflect the study session, often including experiment ideas and discussion points.

Option 2: E.Y.E. Wonder Sessions – This 15 to 30-minute interactive series, allows students and teachers to ask questions and provide input on Conservation themes. Questions related to Science and the local Hamilton environment direct the sessions. The Environmental Education Team will chat directly with students to unravel myths and mysteries of our natural world.
We invite you to register your classes for either of the above programs for the school year.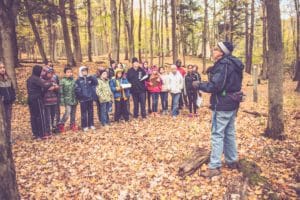 The Hamilton Conservation Authority offers a variety of outdoor environmental education programs for both elementary and secondary school students. The focus of all is to provide students with hands-on outdoor environmental education experiences that meet overall student learning expectations as found in the Ministry of Education modules. Programs are available on either a full or half-day basis.
Dundas Valley Conservation Area
The Dundas Valley Conservation Area offers a selection of exciting hands-on outdoor environmental & recreational program opportunities for elementary and secondary school students. This Environmentally Significant natural area provides students with an excellent opportunity to experience such diverse habitats as; mature Carolinian forests, cold-water streams, ravines, meadows and the Niagara Escarpment, all of which provide excellent habitat for native plants and animals.
Hamilton Wentworth District School Board Program Guides and Information
HCA provides school programming, specifically for the HWDSB, for both Elementary and Secondary students.
Transportation Grant Funding Available
HCA and Hamilton Conservation Foundation are pleased to offer the 2019 Access to Outdoor Education Transportation Grant for At-Risk and Inner City schools participating in the HCA's Outdoor Environmental Education Programs. For more information or to see if your school qualifies, please contact our staff at 905-627-1233.
For more information or to arrange a booking, please contact:
Environmental Education Program Coordinator
Email: hcaenved@conservationhamilton.ca
Phone: 905-627-1233, ext. 3
Fax: 905-627-9722
The Hamilton Conservation Foundation and Conservation Authority gratefully acknowledge the following partners whose generous support helps to provide hands-on opportunities for children to learn and connect with their natural environment:
The Children's Fund (CHML/Y108/953 Fresh Radio)
Dobson-McKee Environmental Education Endowment at the Hamilton Conservation Foundation
Dobson Family and Dobson Family Foundation
Theodore Dwyer and Madeleine Tanglao-Dwyer
Enbridge
Hamilton Community Foundation:

The Dougher Community Fund
Edith H Turner Foundation Fund
Ray Lowes Environmental Fund
The McCallum, McBride Fund
Robert and Marion S. Shivas Conservation Trust Fund

Hamilton Industrial Environmental Association (HIEA)
Sarah Murphy and The Murphy Investment Group/ASM Group
Rothsay
TransCanada Corporation
Westfield Heritage Village Education Programs
Learn about the past in an immersive, multi-sensory environment that makes history come alive through hands-on activities and memorable experiences. All programs are developed with reference to the learning objectives outlined in the Ontario Curriculum.
More about Education Programs at Westfield
Eramosa Karst
The Eramosa Karst is located in the southwestern section of the Stoney Creek area of Hamilton. It extends from Highland Road to south of Rymal Road, and from Upper Mount Albion Road to Second Road West.
Karsts are geological formations including underground drainage, caves and passages caused by dissolving rock, found in limestone formations like the Niagara Escarpment. The Ministry of Natural Resources designated the Eramosa Karst lands as an Area of Natural and Scientific Interest in 2003, because it is believed to have the largest number of unique karst features in any single area in the province. Several of its karst features are provincially significant. These include: soil pipes, a high concentration of suffosion dolines and sinking streams, overflow sinks, dry valleys and a 335 metre-long cave (the tenth longest in all of Ontario). There is also a natural dolomitic limestone bridge at the entrance of one of the sinkholes.
The diversity of geological features and its central location in the Greater Golden Horseshoe, makes the Eramosa Karst one of the best sites in Ontario for education and research opportunities. Protecting the Eramosa Karst's unique network of features will ensure that scientists, students and naturalists can continue to enjoy this natural resource. Because it has great potential for education purposes as a result of its features and hydrology, HCA is exploring the possibilities of creating an environmental education centre on the property.  Currently, educators and group leaders can download Resource Guides to enjoy self-guided teaching experiences in the Eramosa Karst
Grade 4 Level Materials
Grade 4 Level Guide
Karst Introduction
Karst Around the World
Grade 8 Level Materials
Grade 8 Level Guide
Karst Introduction
Karst Around the World
High School Level Materials
High School Level Guide
Karst Introduction
Karst Around the World