Since their creation, people have been drawn to all things train, and they have been admired by enthusiasts all over the world. The Toronto Hamilton & Buffalo (TH&B) Locomotive 103 is no exception. For over 66 years, the faithful TH&B Locomotive 103 has delighted countless train enthusiasts and general visitors to Gage Park and Westfield alike.
About the TH&B
Since 1977 the 103 has been enjoying its retirement on display at Westfield Heritage Village Conservation Area, and is a favourite attraction for visitors of all ages. At 65 feet long and 102.25 tons (204,500 lbs!!), the TH&B is Westfield's largest artifact. Some would argue, it is their most popular too, with visitors being almost magnetically drawn to the much loved 103.
The TH&B 103 is a Class "G" consolidated type steam locomotive that was built in 1910, in Montreal, by the Montreal Locomotive Works. The 103 was originally used to haul freight between Hamilton and Welland, and points beyond that saw active duty for 44 years. This coal powered steam locomotive is one of only two remaining locomotives of its kind in Canada.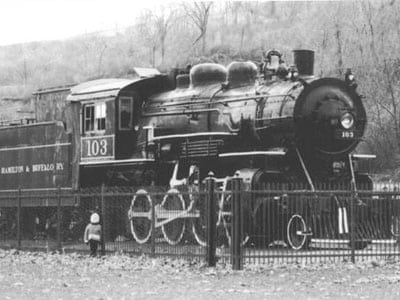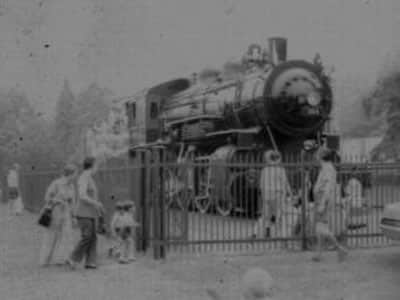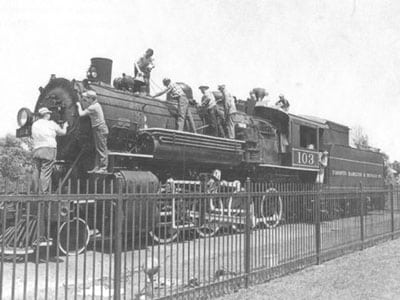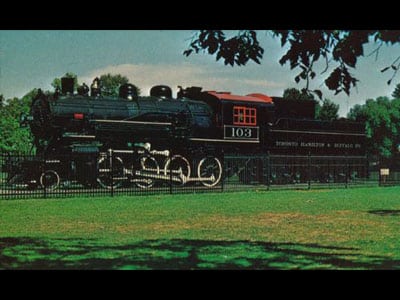 103 at Gage Park
In 1954, 103 was retired from service as the TH&B switched from steam to diesel-electric powered engines, and it was donated to the City of Hamilton so that it could be used as a museum piece. After a lengthy debate, it was decided that the 103 would be displayed at Gage Park. On October 18, 1956, the locomotive was handed over to the City at a formal ceremony. Present at the ceremony were Mayor Lloyd D. Jackson, and Fire Chief Reg Swanborough who once worked aboard the locomotive.
At Gage Park, Locomotive 103 became a treasured landmark for locals and visitors to Hamilton. Evidence of this can even be found today by reviewing the numerous comments on posts on the Vintage Hamilton Facebook page. Many have shared fond memories of playing on the locomotive as children as their family picnicked nearby, or of relatives that worked on the 103, or simply how the writer loves all things train.
Next stop, Westfield!
Unfortunately, after several years of sitting exposed to the elements and the target of vandalism, the engine and tender fell into a sad state of disrepair. At one point it looked like the 103 would end up as scrap, but then Westfield Pioneer Village (as it was called back then) expressed interest in saving it. The City of Hamilton gladly sold it for just $1.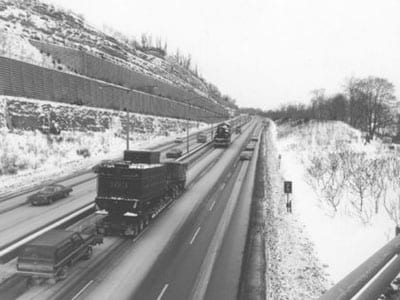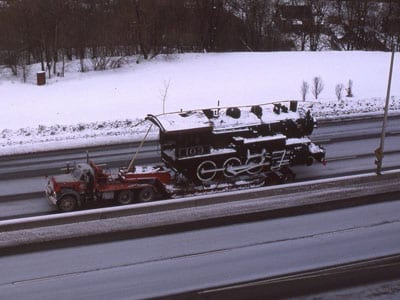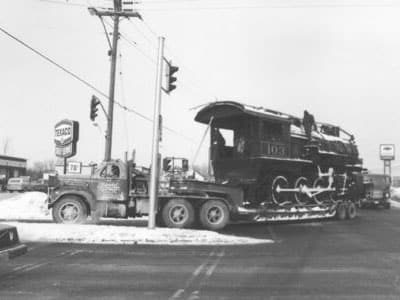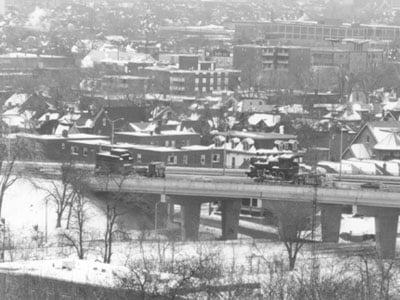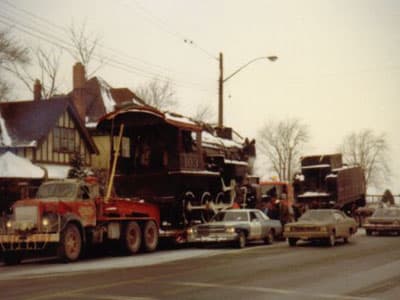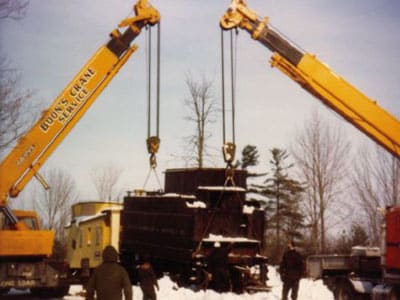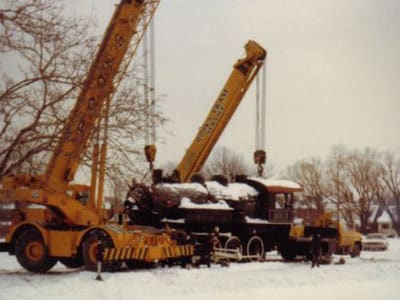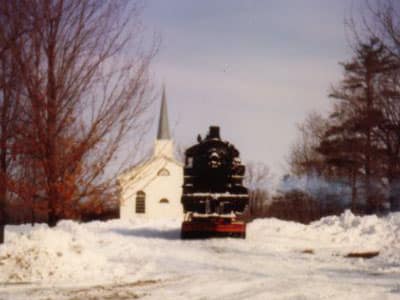 In January 1977 , the TH&B was moved out of Gage Park in two parts. The engine and the coal tender were taken on trailers through City streets, up the Claremont Access, and eventually lifted into place by crane at Westfield. Here it joined the TH&B's Jerseyville Station, Summit Toolshed and caboose to become part of one of the largest collections of TH&B artifacts.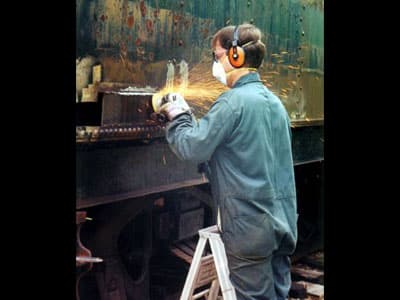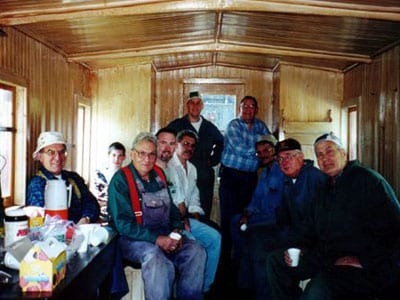 Restoration past and present
In 1997, a group of train enthusiasts began restoring the Locomotive 103 as a millennium project. The group found extensive damage and put in over 1500 hours of restoration work. It wasn't until 2005 that the project was completed. In its restored condition, the train once again began to be enjoyed by a new generation. In fact, it is not uncommon to hear the squeals of delight and excitement when children, of all ages, first spy this magnificent display.
Unfortunately, both the locomotive and coal tender are again showing their age and deteriorating from exposure to the elements. Restoration work is required in order for them to be saved, so that they can remain on display for generations to come. This is a very big project that will require specialized equipment and facilities to carry out the work. The Hamilton Conservation Foundation is currently fundraising to complete this much needed restorations work.
If you'd like to help save the TH&B Locomotive 103, you can donate here!