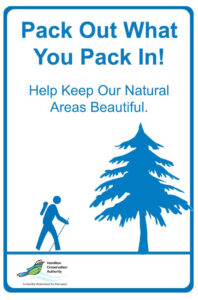 Nothing ruins a day in nature quite like spotting garbage where it shouldn't be. Our staff work hard to keep our areas clean, and the best way to keep them clean is making sure garbage ends up in the trash.
How can you help?
Leave your garbage at home. When heading out to a conservation area for the day, try to keep it as low waste as possible. Always pack drinks and food in reusable containers.
Put garbage in proper bins. If you do have items that need to go in the trash or recycle, make sure you put it there. After your picnic or beach day, have a last look over your area to get any trash you may have missed. Pay special attention for small plastics, like twist ties and bottle caps.
Take your garbage home. Trash bins are not located on the trails and some areas do not have garbage bins – particularly small parking lots. In this case, take your trash home. If you don't mind hiking with a disposable coffee cup, you also shouldn't mind taking it back and putting it in the trash or recycle when it's empty. Garbage can full? Please, do not carefully balance your garbage on top, put it in the trash when you get home and/or let a staff member know so they can change it.
---
Ashes aren't trash
If using a charcoal BBQ, you will have ashes leftover. Do NOT put these in the garbage – this is how fires start and is very dangerous. Areas that permit barbecuing will have designated ash bins to safely dispose of your ashes. On that note, do not put anything in these bins except for ashes.
Remember the golden rules, pack out – pack in and leave no trace!