HCA offers 4 beautiful and sandy beaches just waiting for you to set up and enjoy the sunshine and cool water. Fifty Point and Confederation Beach Park are both located on the shores of Lake Ontario, while Christie Lake and Valens Lake each have beach areas at their reservoirs.
Before heading out, you'll want to make sure that you are prepared for an enjoyable day in the summer sun!
Prepare for a Comfortable Stay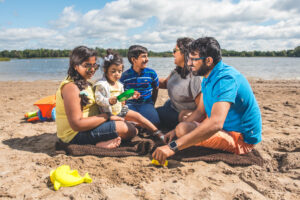 You'll want a few things to make your stay comfortable once you get here. A big blanket is great to lay out on the sand so you'll have somewhere to sit, lay, or just hangout without sitting in the sand. If you're feeling fancy, a small beach chair can make for an even more enjoyable day!
Drink and Snacks
A day in the sun calls for a lot of water and drinks to keep hydrated. Bring it all in a cooler so everything stays cool and refreshing for when you need it! If you'll be here for a while, make sure you pack some snacks and even a picnic lunch too.
Sun Safety
There isn't much, if any natural shade on the beach so you'll want to be prepared for a day in the sun! Sunscreen, hats and sunglasses are a must when it comes to protecting yourself from the harsh summer rays. Don't forget to reapply your sunscreen regularly, especially if you are swimming.
A single pole beach umbrella is also a good idea to create a shady area, particularly if you have children. Small tents are also permitted on our beaches.
Ready – Set – Swim!
If you're planning to go for a dip, you'll definitely want to make sure that you have a swimsuit and a towel to dry off after. Don't forget a change of clothes, because nothing is worse than driving home in a wet bathing suit!
Water Safety
There are NO LIFEGUARDS at any of our beach areas. Caregivers, children are your responsibility. Lifejackets are always a good idea, but you should not solely rely on them to keep you or your children safe. Always keep children within arm's reach when in the water. Waters can be particularly rough on Lake Ontario where Confederation Beach Park and Fifty Point beaches are located.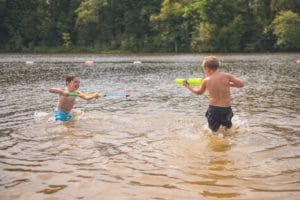 Check Before You Go
All of HCA's beaches are tested weekly by the health department to ensure they are safe for swimming. Although HCA does post onsite if a beach is unsafe for swimming, to avoid disappointment, it is best to check our website and area pages to find out if the beach you plan to visit has open swimming.
Our areas also become very busy in the summer, particularly on weekends so it is also a good idea to check our Facebook or Twitter page for the most up-to-date information on capacity closures.
Have Fun!
A day at the beach should be fun too! Don't forget to bring your beach and water toys!
Clean Up
Make sure that all your trash and garbage makes it into the proper receptacles. Please, do not leave your trash or broken equipment on the beach.
---
What Not to Bring
Dogs. We do love our 4-legged friends but they should be left at home as dogs are not allowed on our beaches.
Alcohol. Alcohol is also prohibited within all of our conservation areas.
Barbecue. There are many places to barbecue at our conservation areas but it is not permitted on our beaches. Barbecuing is not allowed anywhere at Confederation Beach Park.
---
Beach Checklist
Here's a quick checklist before you head out to ensure a great beach day!
Sunscreen
Hat and sunglasses
Swimsuit
Blanket
Towels
Change of clothes
Lifejackets
Water/drinks and cooler
Snacks
Umbrella
Beach chair
Beach Toys
For more information on where you can swim at HCA and current water status, visit our swimming page.