DID YOU KNOW THAT HCA HAS DEVELOPED STEWARDSHIP ACTION PLANS FOR SPENCER CREEK?
HCA has developed Action Plans for all 15 subwatersheds of Spencer Creek so that as a community we can better manage our existing natural areas, restore degraded areas and maintain our natural environment in a healthy state for today and the future. We developed three Action Plans per year between 2007 and 2011.
The Plans were developed using input from a Stakeholder Advisory Committee whose membership included representatives from local agencies, organizations and businesses, as well as local residents. The Plans include Stewardship Actions that relate to education outreach, restoring the natural environment and learning more about the local ecosystem.
WHAT SUBWATERSHED DO YOU LIVE IN?

Check the map below to see if we've completed a plan for your community and how you can help us to implement that plan.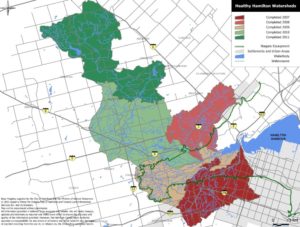 SPENCER CREEK STEWARDSHIP ACTION PLANS
Click on the links below for more detailed information on the Stewardship Action Plans developed for these subwatersheds.
WHAT CAN YOU DO?
Provide comments to the HCA
Get a group of friends or neighbours together to help us undertake some of the Actions for your community.
Tell your friends and neighbours about our project.
Contact Us
If you would like to learn more about the Spencer Creek Stewardship Action Plans please contact:
Jaime Tellier
Watershed Officer
Hamilton Conservation Authority
P.O. Box 81067, 838 Mineral Springs Rd.
Ancaster, ON L9G 4X1
905-525-2181, ext. 165
Jaime.Tellier@conservationhamilton.ca