School Grounds Naturally
The Hamilton-Halton Watershed Stewardship Program offers School Grounds, Naturally! to help local schools create 'Living Classrooms'. Schoolyard naturalizations are fun projects that can engage the entire community; students, teachers, parents, local business owners and community groups can all work together to create and care for these unique interactive classrooms. A living classroom provides students with a stimulating environment that will help them develop the foundation for an appreciation of natural processes and an environmental ethic.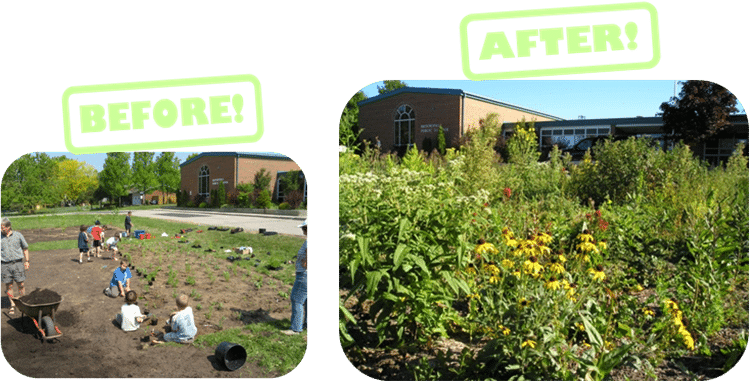 Success Story: Brookville Public School 
These accessible ecosystems provide an opportunity to enhance the learning experience of students. Natural areas can be used to reinforce in-class material while simultaneously creating food and shelter for local wildlife and beautifying the school yard. Every natural area has the potential to bring to life lessons learned in the classroom. A living classroom is a tool that can enhance teaching methods by incorporating sensory activities which are proven to engage students and reinforce curriculum. For more information on what your school can do to preserve and enhance the natural environment, contact us.
School Grounds Naturally Guides
School Grounds, Naturally! Guide
School Grounds, Naturally! Companion Resource Guide