Flood and Erosion Control Study: Stoney Creek and Battlefield Creek
Conservation Ontario Class Environmental Assessment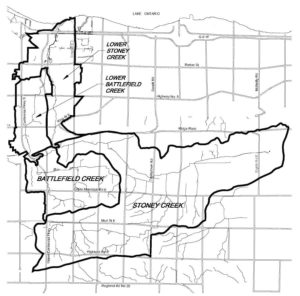 THE STUDY
The Hamilton Conservation Authority (HCA) has completed a study to investigate possible flood and erosion control alternatives for the lower Stoney Creek and Battlefield Creek watersheds. The focus has been to assess possible alternatives above the escarpment that would help to alleviate the flooding and erosion occurring below the escarpment.  The study area is shown on the map at right.
The study has assessed numerous flood and erosion control storage systems to reduce erosion and flood risk below the escarpment, both individually and in combination. The Preferred Alternative includes Battlefield Creek Flood Storage Site 1 (BC-1) and Stoney Creek Flood Storage Sites 5, 7 and 8 (SC-5, SC-7 and SC-8). The study provides additional information on all of the alternatives considered, the evaluation process and implementation considerations of the Preferred Alternative.
PUBLIC CONSULTATION
The study has been conducted in accordance with Conservation Ontario's procedures as outlined in the Class Environmental Assessment (EA) for Remedial Flood and Erosion Control Projects (2002, amended June 2013) under the Environmental Assessment Act.  Two Public Information Centres (PICs) were held in order to gather comments and input from stakeholders and members of the public.  The first PIC was held on March 28, 2017 and the second PIC was held on November 28, 2017.
This Notice of Filing Document for Review places the study on public record for a 30 day review period commencing April 28, 2018.  Interested persons are invited to review the study in electronic format:
The study is also available in paper format at the following location:
HCA Main Administrative Office
838 Mineral Springs Road
Ancaster ON L9G 4X1
Tel: 905.525.2181
Fax: 905-648-4622
nature@conservationhamilton.ca
Subject to comments received and obtaining the necessary approvals, HCA intends to proceed with the implementation of this project.  Persons with comments should provide them in writing within the 30 calendar days from the date of this Notice to:
Hamilton Conservation Authority
Mr. Scott Peck, MCIP, RPP
Deputy Chief Administrative Officer/Director – Watershed Planning & Engineering
838 Mineral Springs Road
Ancaster, ON   L9G 4X1
Phone: 905-525-2181 ext. 130
Email: tspeck@conservationhamilton.ca
Amec Foster Wheeler Environment & Infrastructure
Mr. Ron Scheckenberger, M.Eng., P.Eng.
Project Manager
3450 Harvester Road, Unit 100
Burlington, ON   L7N 3G2
Phone: 905-335-2353
Email: ron.scheckenberger@amecfw.com
Every effort will be made to address concerns raised, however if any individual feels that serious environmental concerns remain unresolved after consulting with HCA staff, it is your right to request that the project be subject to a Part II Order by the Minister of the Environment and Climate Change. Part II Order requests must be received by the Minister, with a copy to HCA, within 30 calendar days following the date of this notice:
The Hon. Chris Ballard
Minister
Ministry of the Environment and Climate Change
Ferguson Block
77 Wellesley Street West, 11th Floor
Toronto ON  M7A 2T5
Minister.MOECC@ontario.ca