So, you've seen all the beautiful photos of Dundas Peak and the surrounding area; or maybe the stunning views from Tew Falls and Webster Falls lookout platforms. Now you've decided to visit. Here's your guide to the booking process and what to expect once you get on site.
---
When is a reservation required?
For the fall of 2023, reservations will be required to visit every day beginning September 23, 2023.
Learn more about Spencer Gorge reservations here.
---
A reservation system sounds a little complicated, but is it?
No! Making a reservation is easy and straightforward, and not that different than booking a hotel.
---
Why can't I just show up when I want?
In the past, the Spencer Gorge has experienced high numbers of visitors and crowding on its trail system and viewing platforms, particularly during the fall colour season. Additionally, there was traffic congestion in the small community the area is located in causing safety concerns.
The reservation system ensures an enjoyable experience for all, by guaranteeing a parking spot and the ability to enjoy these areas without big crowds.
---
How long do I get to visit on my reservation?
Reservations are for a 2-hour period. This time frame will allow plenty of time to visit the area you've booked for and to take as many pictures as you'd like! You may arrive up to 30 minutes after your reservation time begins, but you still must leave the area by the time stated on your reservation so it is best to be on time.
---
Before you make your reservation, decide where to go: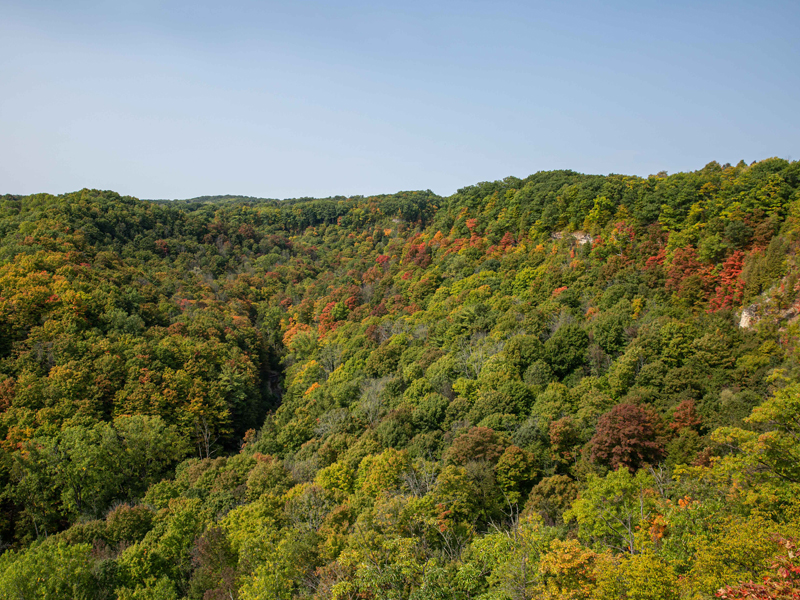 Dundas Peak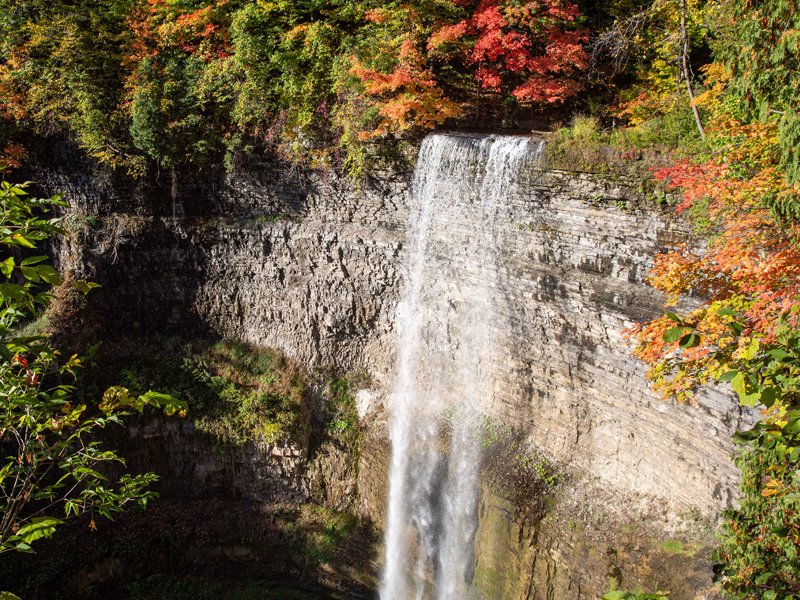 Tew Falls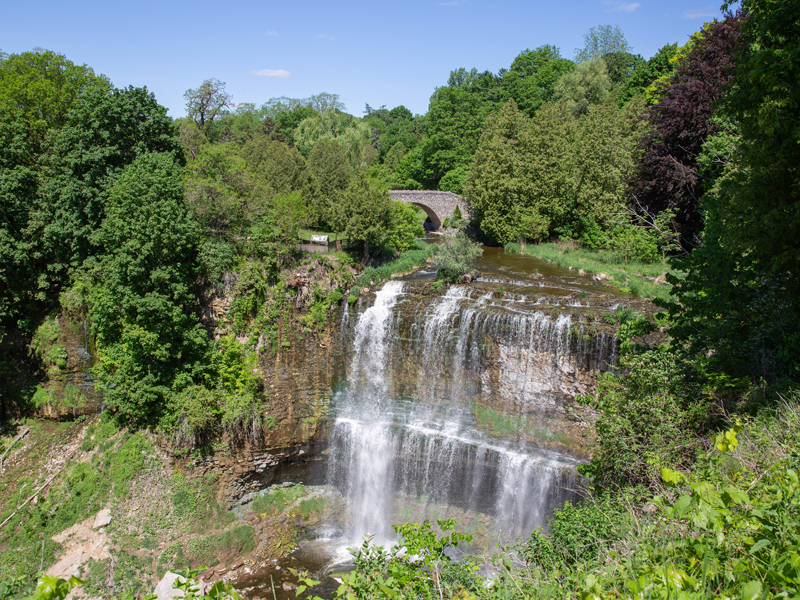 Webster Falls
First you need to decide where you want to go at the Spencer Gorge; Dundas Peak/Tew Falls or Webster Falls. Although they are both at the Spencer Gorge they are different, and have separate parking areas and are separate bookings. You cannot book for both places on the same reservation, but you can make two separate reservation for this experience, please see below on how to do that.
I want to visit both Dundas Peak/Tew Falls and Webster Falls!
You can! You will have to make a separate reservation for each location. We recommend visiting the Dundas Peak first, followed by Webster Falls as Webster is an easier hike.
---
How do I make a reservation?

Head to the reservation site here: https://hcareservations.ca/. Click on the 'Dundas Peak/Webster Falls' tab, and select the location, date and number of people in coming in your vehicle.
---
Step by Step – Make your reservation
Click through the photos to see how easy making your reservation is!
Select park, date and how many people will be with you in your vehicle.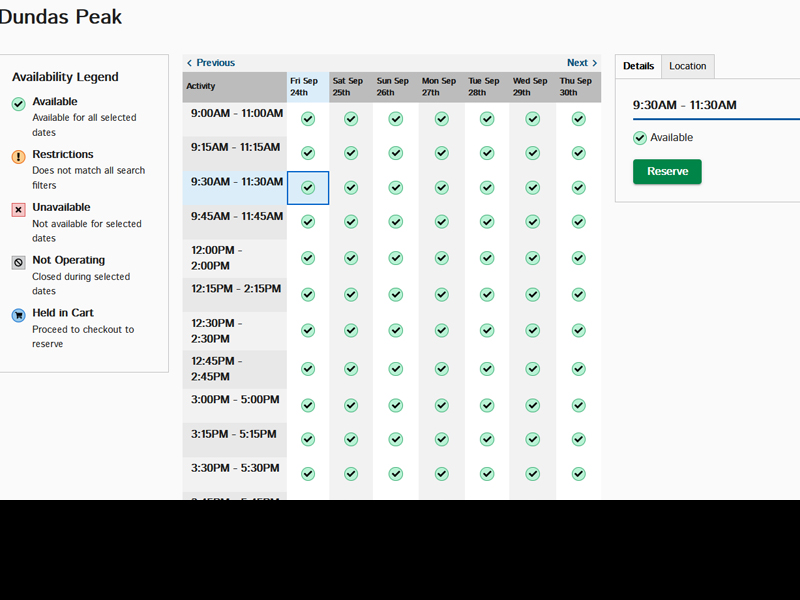 Select the time slot you want to visit.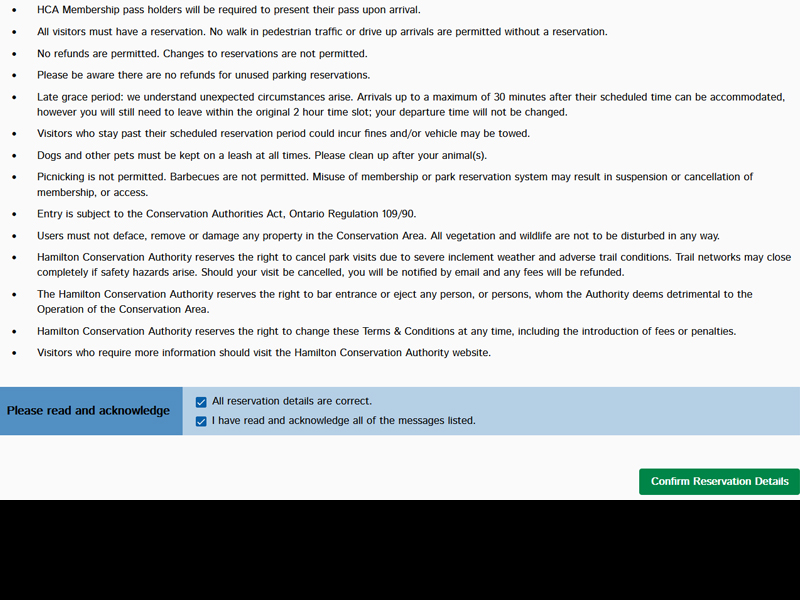 Review details and confirm. Confirm you've read and understand area information.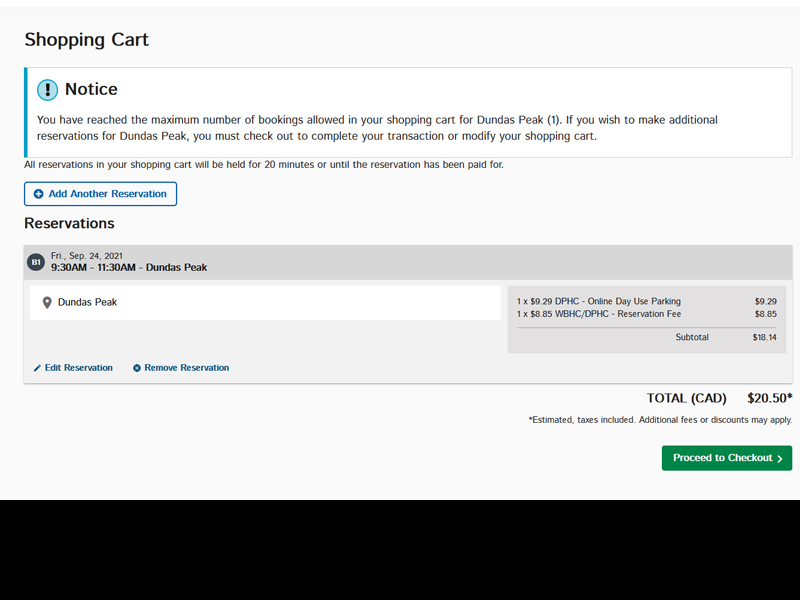 Review shopping cart and proceed to checkout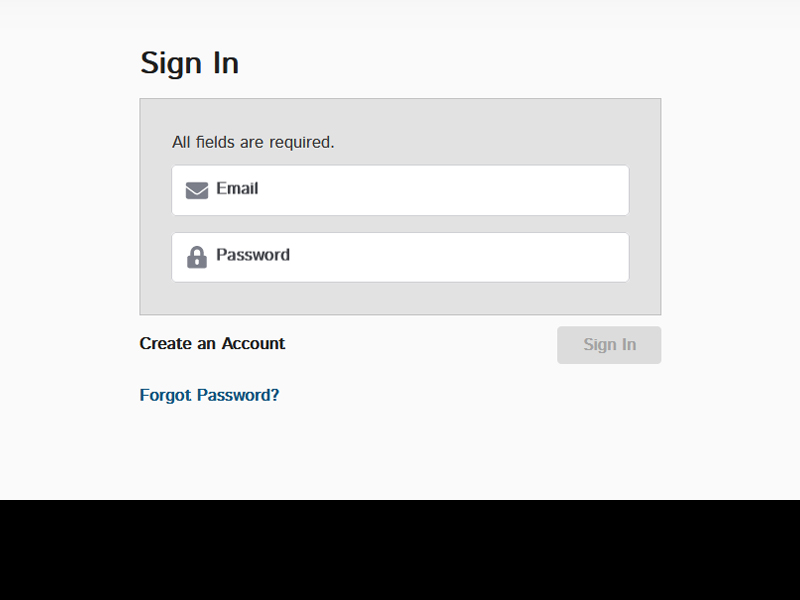 You must have an account to make your reservation. At this point you will need either sign in or create an account.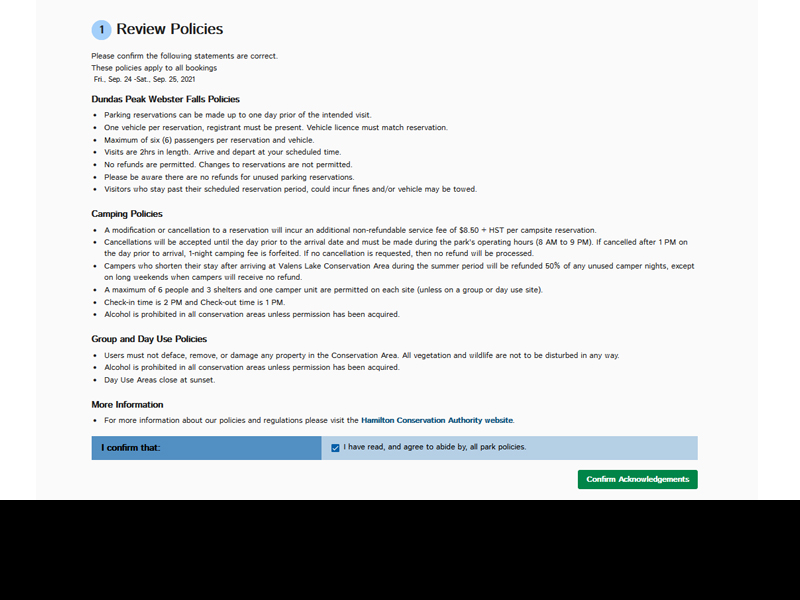 Read and review policies and confirm.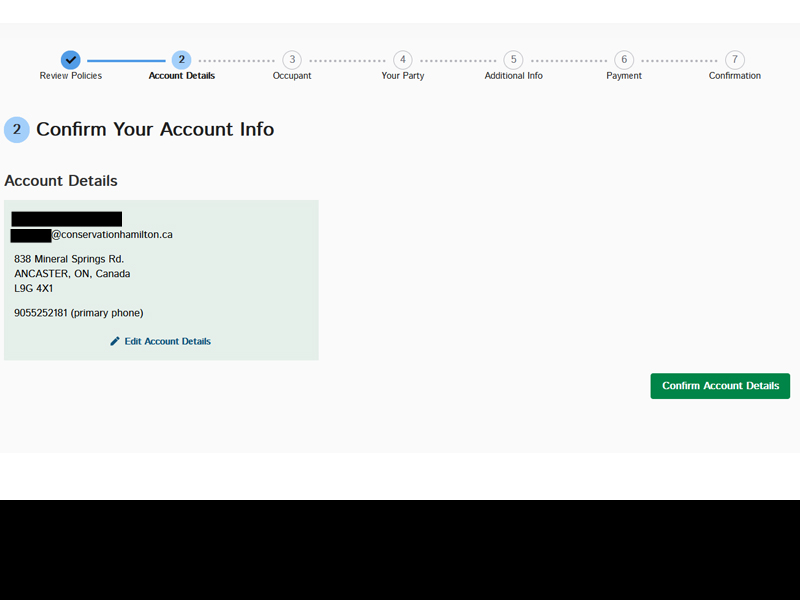 Confirm your account details.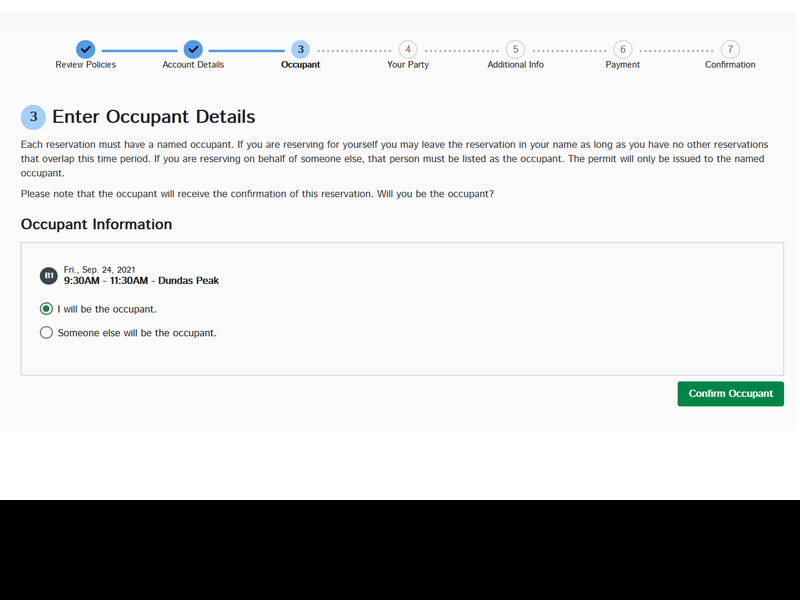 Confirm whether you will be present for your reservation or if you have booked for someone else. If you have booked for someone else, you will need to add their name and contact information.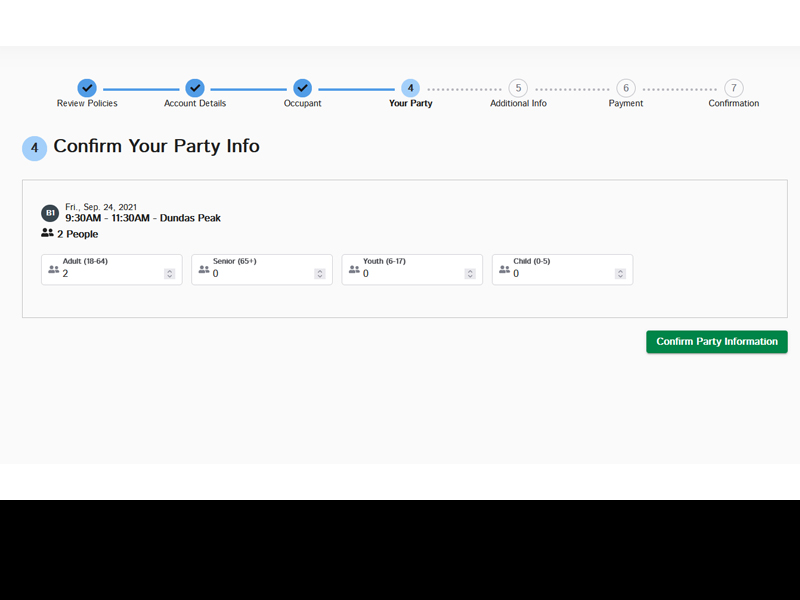 Confirm party information.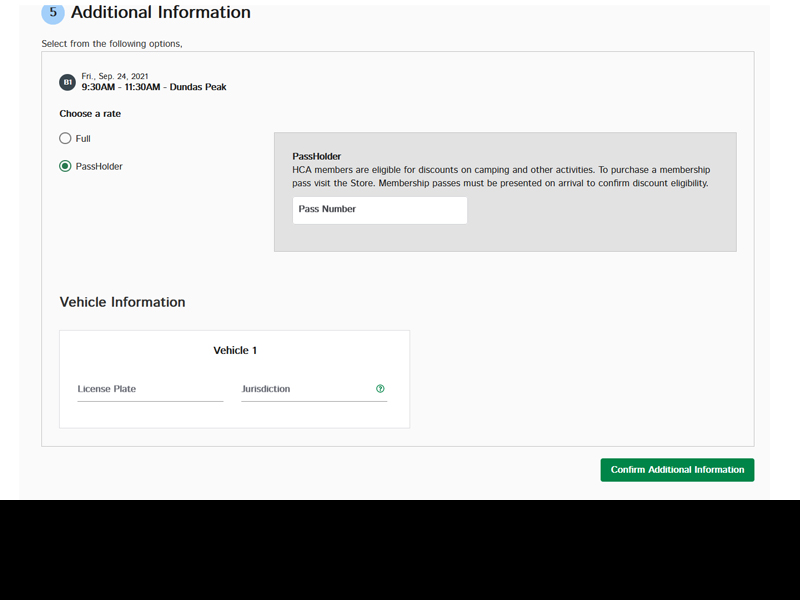 If you are an HCA Member, enter your pass number. Spencer Gorge is included with your pass, but you're still required to pay the booking fee. You will also need to add your license plate and province (jurisdiction).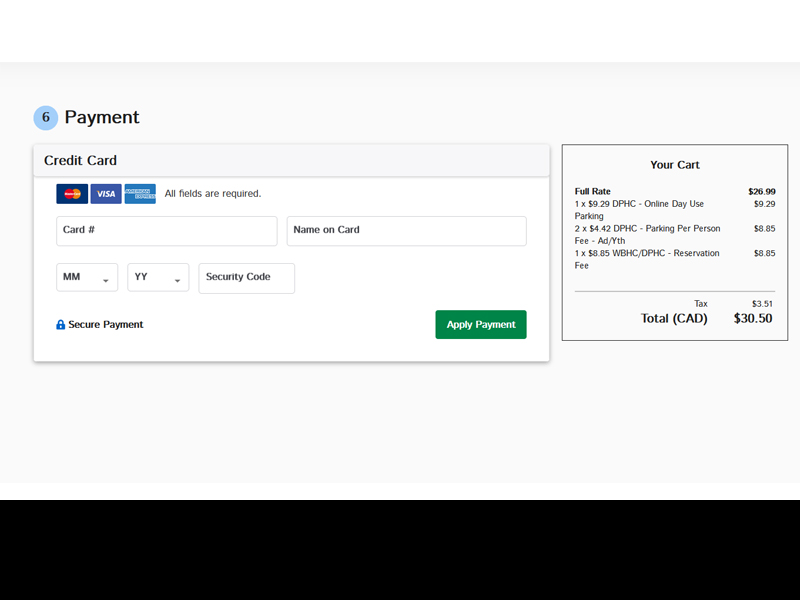 Enter payment details.
Once you make and pay for your reservation, a confirmation email will be sent to you. You MUST show this email once you arrive for your reservation – printed copy or digital on your phone are accepted.
---
Getting here

Now that you have your reservation, it's time to get there. Click the links below for the location of each areas parking lot.
Dundas Peak/Tew Falls Reservation Parking
Webster Falls Reservation Parking
---
When you arrive

When you arrive there will be a staff person who will ask to see your reservation confirmation. They will also verify the number of people on your reservation and those in your vehicle. If you arrive with more people than on your reservation, you will be required to pay for the additional people when you arrive. Once they confirm your reservation, you will be able to park and enjoy the Spencer Gorge!
---
Make the most of your day
Your time at HCA doesn't have to be limited to your 2-hour visit at the Spencer Gorge. You can use your proof of payment to visit any other staffed HCA area on the same day of your reservation. Christie Lake is just around the corner, and is a great place to enjoy a picnic before or after your Spencer Gorge visit.
---
Enjoying the area
We've created some simple guide for you on the things you'll want to see, but more importantly where to go. Click below to learn more about each area.
Dundas Peak/Tew Falls Trail Guide
Webster Falls Trail Guide
---
Enjoy!

That's it! Not so bad right? We hope you enjoy your visit to the Spencer Gorge!
---
Additional resources

If you require any further information or assistance, visit the Spencer Gorge Reservation Page here.