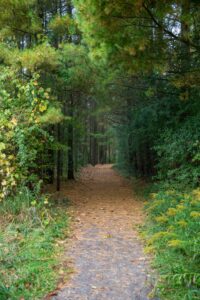 With almost 150km of trails at HCA areas, there are so many places waiting for you to discover and explore! Our trails have a lot of variety and range from short to long, easy to difficult with some paved and others on packed dirt or gravel.
The best way to make the most out of your experience is to be prepared and we are here to help!
Planning Your Hike
Planning before you go is an important step to ensure a great hike! So, before you go there are a few questions to answer…
Where are you going?

The first step is deciding where to hike. A good place to start is HCA's hiking page, which shows you all the different trails HCA has to explore. Here, you'll also find hike distances which will help you decide where to go and also how long the hike should take.

How long will hike take?

A good rule of thumb is in figuring out how long a hike will take is 15-20 minutes per kilometer. This can go up or down depending on your pace and that of those you are with. The difficulty of the terrain should also be considered when deciding how long it will take.

What time is sunset?

HCA areas are open from sunrise until sunset and you don't want to be out on a trail after dark.  It's important to have a good idea of how long a hike will take is so you  don't head out too late and can ensure you are done before dark

What is the weather?

What has the weather been and what will it be when you head out? Whether the weather is supposed to be cold, hot, humid, rainy or anything else you'll want to be prepared. It's also good to consider what the weather has been as trails can be muddy following rain.
---
What to Bring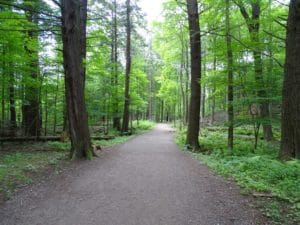 There's a few simple thing's you'll probably want to make sure you bring with you.
Water: It's always important to stay hydrated, so pack water, preferably in a reusable bottle.
Snacks: Depending on the length of your hike, you may also want to bring some snacks. We recommend something healthy to keep you going and not weigh you down like trail mix, granola bars or dried fruit. Just remember to take any garbage back out with you and do not litter anywhere on our trails or parking lots.
Cell phone: We know most don't leave home without it but it's a good idea to bring out on the trails too! Its a camera, compass and phone all in one so good to have on hand in case of emergency. Just be sure to put it on silent so you can be tuned into nature!
Backpack: Perfect for tossing all your other item into and keeping your hands free.
⇒ What NOT to bring? Music and speakers. Please, others do not want to hear your music while out on the trails.
---
What to Wear

Clothing: Layers! It may start out cool but will warm up as you get moving, this is especially true in shoulder seasons like spring and fall. You'll want to leave the jeans at home and opt for something more comfortable to move around in. If it's hot out, you may want to wear moisture wicking clothing to keep yourself cool. Hats and sunglasses are also a must if the sun is out.

Pro-tip! Make sure new shoes are already broken in before your hike!

Proper Footwear: Wearing the proper footwear is very important, not just for comfort, but safety as well. Depending on where you are walking, some trails can have unstable surfaces so it is important to be wearing secure footwear with good grip. Save your flip flops for the beach!
Sunscreen: Hot, cloudy or cold days, if the sun is out you can get burned – even in the winter!
Bug spray: HCA trails are in natural areas which means there can be bugs. Make sure your bug spray contains DEET to help repel mosquitos and ticks.
---
Hitting the Trails
You planned, packed and made it to our areas and now what?
!Stay safe! Always tell someone when and where you are going especially if heading out alone. If something happens, like an injury, you'll want someone to know where you are.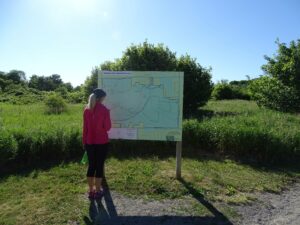 Know your route
HCA trails are well marked but it is still good to know your route. Brochures with trail maps are available at most areas, but if they're not, snap a quick picture on your phone of the trail map that is posted – that way you'll have it handy in case you need to refer to it later.
Stay on marked trails
Always stay on marked trails, and for good reason…
Prevents you from getting lost.
Protects our forests. There are many ecologically sensitive plants and wildlife just off our trails so stepping off the beaten path can be very harmful to the great outdoors you've come to enjoy.
Keeps you safe. Hazard trees are managed along our trails but not throughout the forest and you should never go under escarpment and cliff edges, including waterfalls.
---
After Your Hike
Take out any garbage you have brought with you and put in the proper garbage bins. If there aren't garbage bins, take it home with you to dispose of it properly. Do not leave coffee cups or any other trash on the trail!
Always check yourself for ticks before you get in the car and head home. It doesn't hurt to check again when you get home too.
If sharing your pics on social media, use the hashtag #ExploreHCA!
---
Hike Checklist
Here's a quick checklist before you head out to ensure a great day of hiking!

Check weather and sunset time
Sunscreen
Hat
Sunglasses
Bug spray
Water
Snacks
Phone
Back pack
For more information on where you can hike at HCA, visit our hiking and recreation trails page.