Adventures In Education Outdoor Environmental Education for Schools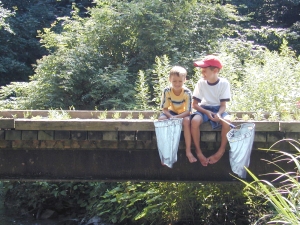 The Hamilton Conservation Authority is pleased to present Adventures in Education outdoor environmental education programs. This series of field trip opportunities is available for both elementary and secondary school students. The focus of all Adventures in Education field trips is to provide students with hands-on outdoor environmental education experiences that meet overall student learning expectations as found in the Ministry of Education modules. Programs are available on either a full or half-day basis and are offered at the following locations.
The Hamilton Conservation Foundation and Conservation Authority gratefully acknowledge the following partners whose generous support helps to provide hands-on opportunities for children to learn and connect with their natural environment:
•Rothsay •TD - Friends of the Environment Foundation
•Ray Lowes Environmental Fund, Hamilton Community Foundation
•Dobson-McKee Environmental Education Endowment
•TransCanada Pipelines •The Martin Foundation •H. G. Bertram Foundation
•CIBC Children's Foundation and the Murphy Investment Group
•Ontario Ministry of the Environment

Dundas Valley Conservation Area
The Dundas Valley Conservation Area offers a selection of exciting hands-on outdoor environmental & recreational program opportunities for elementary and secondary school students. This Environmentally Significant natural area provides students with an excellent opportunity to experience such diverse habitats as; mature Carolinian forests, cold-water streams, ravines, meadows and the Niagara Escarpment, all of which provide excellent habitat for native plants and animals.
For more information about the Adventures in Education programs, please refer to the program descriptions:
Nature on Wheels
Schools will be able to experience outdoor environmental education in specially developed classroom outreach sessions. The Hamilton Conservation Authority (HCA) Nature on Wheels – Eco Outreach program is now available to area schools.
All Nature on Wheels programs are curriculum-based, interactive programs led by HCA's professional staff of educators, says Beth Stormont, Education Program Manager.
"We arrive at your school with all the display materials and equipment needed for an in-class presentation," she says.
Each classroom presentation is approximately 1.5 hours in length and includes a variety of hands-on, interactive programs. Typically, HCA provides two in-class programs at each school; the first session from 9 am – 10:30 am and the second session from 10:30 – noon. Each school is a little different and times can be adjusted to school schedules.
For more information or to arrange a booking, please contact:
Beth Stormont, Education Program Manager
Hamilton Conservation Authority
P.O. Box 81067
838 Mineral Springs Road
Ancaster, ON, L9G 4X1
Phone: (905) 627-1233 Fax (905) 627-9722
Email: bethdvca@conservationhamilton.caThis email address is being protected from spambots. You need JavaScript enabled to view it.

2015 Envirothon
Attention teachers!
Register your students for the Hamilton – Wentworth Regional Envirothon and earn the chance to represent Ontario in the North American Envirothon Championships!
What is Envirothon?
Envirothon is a competition for high school students in grades 9 to 12. The competition is designed to expose students to diverse environmental issues and allow them to apply their knowledge of environmental science, ecology, biology and natural resources. The Ontario Provincial Envirothon competition is organized by the Ontario Forestry Association and is delivered in numerous Regions throughout Ontario. The Hamilton Conservation Authority organizes the local Hamilton-Wentworth Regional Envirothon.
Westfield Heritage Village Education Programs
Learn about the past in an immersive, multi-sensory environment that makes history come alive through hands-on activities and memorable experiences. All programs are developed with reference to the learning objectives outlined in the Ontario Curriculum.
More about education programs at Westfield.
Eramosa Karst
The Eramosa Karst is the Hamilton Conservation Authority's newest conservation area. It is located in the southwestern section of the Stoney Creek area of Hamilton. It extends from Highland Road to south of Rymal Road, and from Upper Mount Albion Road to Second Road West.
Karsts are geological formations including underground drainage, caves and passages caused by dissolving rock, found in limestone formations like the Niagara Escarpment. The Ministry of Natural Resources designated the Eramosa Karst lands as an Area of Natural and Scientific Interest in 2003, because it is believed to have the largest number of unique karst features in any single area in the province. Several of its karst features are provincially significant. These include: soil pipes, a high concentration of suffosion dolines and sinking streams, overflow sinks, dry valleys and a 335 metre-long cave (the tenth longest in all of Ontario). There is also a natural dolomitic limestone bridge at the entrance of one of the sinkholes.
The diversity of geological features and its central location in the Greater Golden Horseshoe, makes the Eramosa Karst one of the best sites in Ontario for education and research opportunities. Protecting the Eramosa Karst's unique network of features will ensure that scientists, students and naturalists can continue to enjoy this natural resource. Because it has great potential for education purposes as a result of its features and hydrology, HCA is exploring the possibilities of creating an environmental education centre on the property. Currently, educators and group leaders can download Resource Guides to enjoy self-guided teaching experiences in the Eramosa Karst
Grade 4 Level Materials
Grade 8 Level Materials
High School Level Materials