Make adventures easy this summer, and all year round, with an HCA Membership Pass!
By now you've probably heard about the HCA Membership, but may still be wondering if the pass is right for you. Unlike memberships for other destinations, the HCA Membership allows you AND your carload (up to 6 people) into HCA conservation areas. With just one membership, you and your family can visit a variety of diverse areas, and enjoy different sights and activities.
What is the membership pass?
After you pay for a membership, enjoy the next 12 months of visits to HCA areas FREE!
Gets you into all HCA areas. Simply swipe at the gate or show staff at the gatehouse.
Good for 12 months from the date of purchase. HCA areas are open 364 days a year!
Covers you, and your carload (up to 6 people) into areas.
Includes HCA reservations at Westfield Heritage Village and Spencer Gorge (will still need to pay a reservation fee).
Where can you go with a membership pass?
Members can visit all HCA conservation areas with their pass. This includes our larger conservation areas, as well as smaller more passive areas. These include, but are not limited to: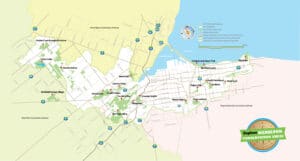 Check out our Google Map, for locations.
Why become a member?
Simply put, it's cost effective and makes visiting HCA easy! If you're a regular visitor of HCA, or you'd like to be, a pass is the way to go!
Great value

A family of four will get the pass value back in less than four visits, so it just makes sense. It's also more inexpensive than many other memberships. If you enjoy our areas for fitness, it's a steal compared to what you'd pay for a gym membership.

Makes visiting quick and easy

No need to wait at the gate or get a parking pass for the day, simply swipe your pass to enter or exit our areas.

Endless adventures

Members don't just get to go to one place, they can visit ALL of HCA's conservation areas, endless amounts of times!

Supports local conservation efforts

Membership dollars keep our conservation areas open by paying for trail construction and maintenance, property taxes, insurance and all those hidden expenses. Contrary to popular belief, conservation areas are NOT paid for by tax dollars. Membership sales also help protect, preserve and restore ecosystems, and heritage sites on HCA lands, and assists with education programs.
How to become a member?
You have 3 options!
In person at a conservation area or our main office.
Over the phone at 905-525-2181
Decide next time you visit…
If you pay the regular admission at one of our gates, and later decide you want to become a member, no problem! You can use that receipt towards the purchase of a membership! The receipt will be required and your pass will be dated 12 months from the date on the receipt.
We hope to see you out at our areas this year, as you #ExploreHCA!