#ExploreHCA with a Trail Access Pass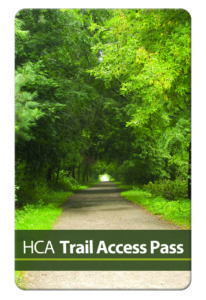 Looking to #ExploreHCA on foot or bike? Then the HCA Trail Access Pass will be perfect for you!
This annual pass will allow one individual walk-in or bike-in access to HCA conservation area for 12 months.
*Not valid for Westfield Heritage Village special events.
*No vehicle entry or parking with the Trail Access Pass.
Purchasing Your Pass
The Trail Access Pass is just $40 plus HST and can be purchased at HCA Conservation Areas, our main office in Ancaster, over the phone at 905-525-2181 or you can purchase your Trail Access Pass online.
Membership Dollars
Every purchase of a pass helps keep our conservation areas open for the benefit of all. Many people believe conservation areas are paid for by their tax dollars, but that is not the case. Pass fees pay for trail construction and maintenance, emergency services, property taxes, insurance and all those little things we need to keep our conservation areas open.