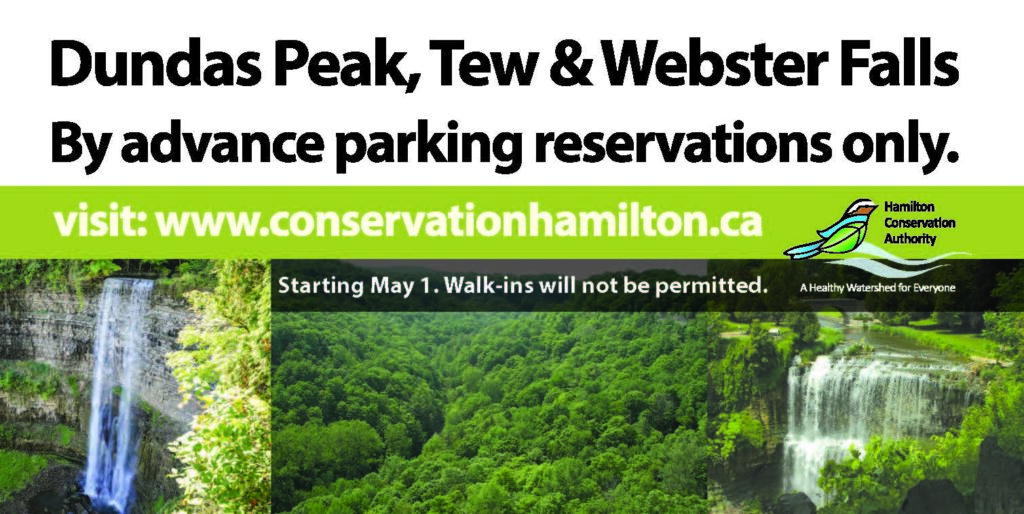 Please note, reservations are
rain or shine
Your proof of payment can also be used for free admission to any other staffed Hamilton Conservation Authority conservation area today, either before or after your reservation time. Your reservation for one area in Spencer Gorge does not give you access to both. A separate reservation is required for each.
Due to the COVID-19 pandemic and the overwhelming popularity of Dundas Peak & Tew Falls and Webster Falls, HCA has instituted online reservable parking in 2-hour time slots. From May 1 to November 2021, all visitors, including HCA passholders, will be required to make a reservation prior to their visit. This change to a mandatory reservation will manage visitor numbers and will assist with physical distancing and provide a safe and enjoyable visit. It will also allow visitors to travel with the peace of mind, knowing that their parking space is held for them.
Please note: tour operators or other businesses are not permitted to make bookings during this time period. Only personal bookings will be allowed.
Reservations may be made up to a week before and up to midnight the day prior to your visit. No same-day reservations will be permitted.
For assistance or more information email reserve@conservationhamilton.ca or call 1-855-227-5267. Phones will be answered from 8:30 AM to 4:30 PM.  Assistance with creating an account or password should be done through the reservation site.
Reservations are made for 2-hour blocks. Arrival times will be staggered in 15 minute intervals. This system will be in place seven days a week, both weekdays and weekends, until November 2021.
Dundas Peak & Tew Falls Parking Lot address