Spencer Gorge Reservations
Due to the overwhelming popularity of hiking the Dundas Peak and visiting Tew Falls and Webster Falls in the Spencer Gorge Conservation Area, HCA has instituted an online reservation system.
Reservation Information
A reservation is required to visit seven days per week for the fall colour season beginning September 17, 2022.
Reservation required on days shaded green. Reservation not required on unshaded/white days and the area is first come first served.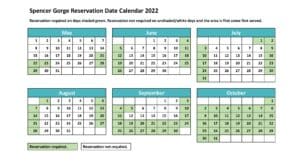 Reservations are for 2-hour time blocks.
Bookings are rain or shine.
Reservations must be made online in advance and can be made up to a week before, and up to midnight the day prior to your visit. No walk up, drive up or same day reservations permitted.
All visitors, including HCA Members will need to make a reservation when they are required. Members will only need to pay the reservation fee.
Two separate hike experiences to choose from:

Dundas Peak & Tew Falls hike experience
Webster Falls hike experience

Tour operators or other businesses are not permitted to make bookings during this time period. Only personal bookings will be allowed.
| Spencer Gorge Fees | | |
| --- | --- | --- |
| Reservation Fee> | $10.00 | Reservation fee applies to all bookings, including HCA Membership passholders. Entry to the area is still included in your HCA Membership Pass. |
| Per Vehicle Fee | $10.50 | Only one vehicle is allowed for each reservation. |
| Per Person Fee | $5.00 | Fee applies to each person in your vehicle 6 years of age and over. Children 5 and under are free. |
Your proof of payment can also be used for free admission to any other staffed HCA conservation area before or after your reservation time on the same day. Your reservation for one area in Spencer Gorge does not give you access to both. A separate reservation is required for each.
Hike Experiences
Visitors will choose either the Dundas Peak & Tew Falls hike experience, or the Webster Falls hike experience. Separate advance reservations are required for each area.
Dundas Peak & Tew Falls
Parking lot located at 581 Harvest Road, Dundas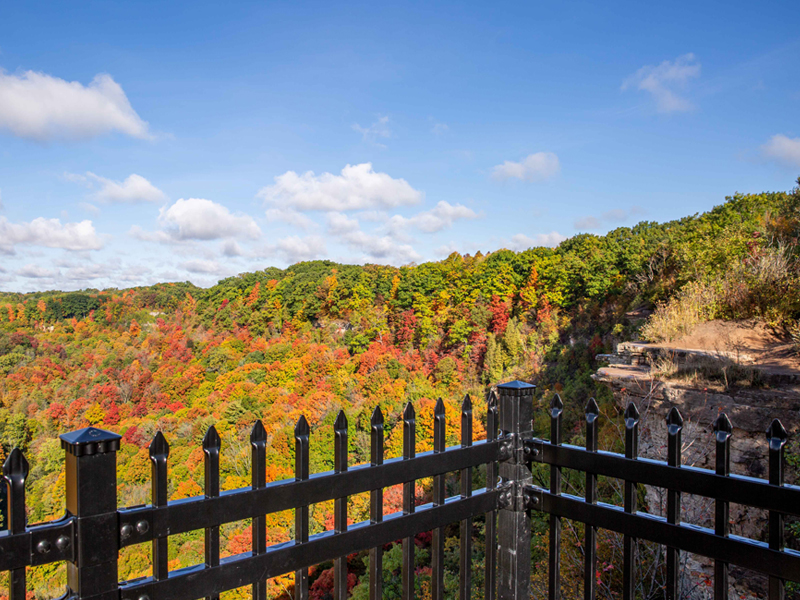 Your two-hour hike experience will start at Tew Falls, which at 41 metres is just a few metres shorter than Niagara Falls. There are two platforms just off the trail that allow visitors to get a spectacular view of the falls and gorge.
Continue on your hike along the Niagara Escarpment to the Dundas Peak, offering a stunning view of the escarpment and Dundas and Hamilton.
Webster Falls
Parking lot is at Greensville Optimist Park, off Highway 8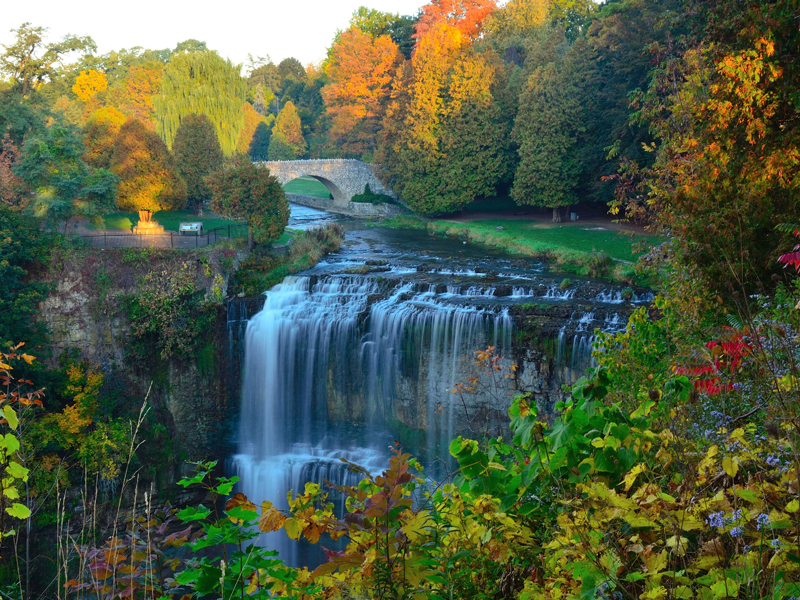 Your two-hour hike experience features a hike along a trail rich in history, as you approach Webster Falls, a 22-metre classical curtain waterfall that is one of Hamilton's most iconic waterfalls.
Travel across the beautifully restored cobblestone bridge that crosses Spencer Creek, to the accessible Dobson-McKee lookout that offers stunning views of the gorge and vistas
Need Help?
For assistance or more information email reserve@conservationhamilton.ca or call 1-855-227-5267. Phones will be answered from 8:30 AM to 4:30 PM.  Assistance with creating an account or password should be done through the reservation site.
Additional Information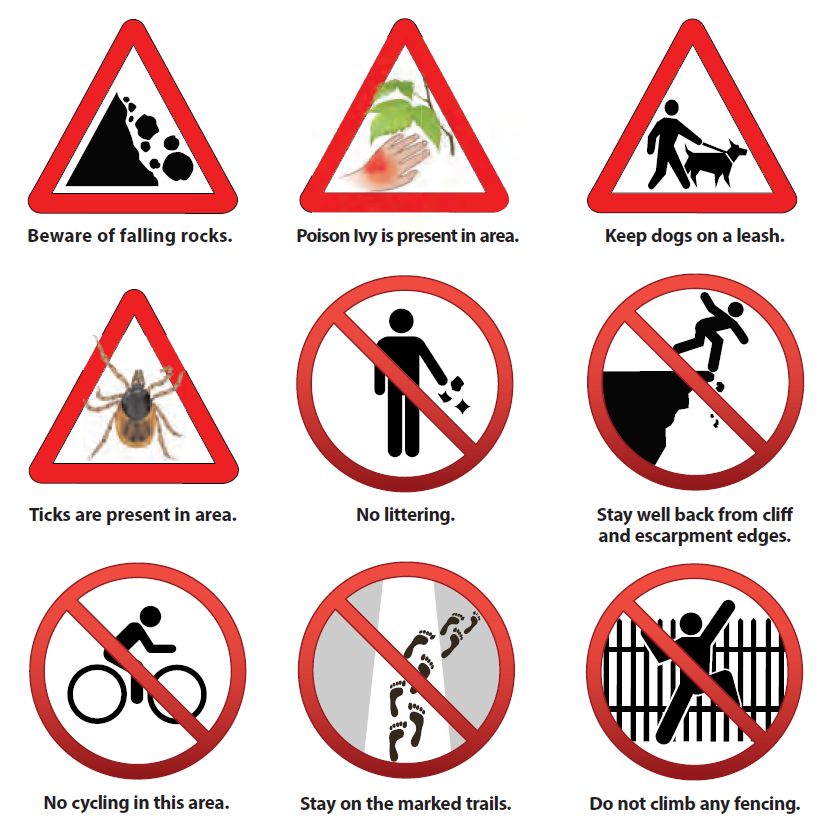 There are areas in the Spencer Gorge Conservation Area that are fenced off and closed to the public for safety reasons.  Never climb or otherwise bypass this safety fencing.  The slopes and edges of the escarpment can be unstable and pose a fall hazard.  If a user falls in an escarpment area, the only way to assist them out of the area is through a rope rescue by the Hamilton Fire Department, who are trained to carry out these rescues safely.  There have been serious injuries to visitors that have attempted to access the gorge area.
The most important safety rule in the Spencer Gorge Conservation Area is to stay on the trails at all times.
Keep well back from the edge of the gorge and escarpment areas, at least a body length. Adults should keep children and pets well away from these areas.
Please note that there is NO access available to the bottom of the falls.
No BBQing is permitted
Pets are permitted in the area, but must be on leash. Please clean up after your pet
Pack out what you pack in. Trash and recycling containers are provided in these areas. Do not litter, or leave garbage outside of the containers.
Please note: there is no trail linkage between Tew Falls and Webster Falls.
Trails are recreational trails, consisting of packed earth in most areas.
Visitors must stay on the trail at all times for their own safety and the ecological health of the conservation area.
Good walking or hiking shoes should be worn to explore the trails.
Keep an eye out for tree roots, loose rocks and other walking hazards
The trails are on rugged terrain; most are not suitable for wheelchairs or strollers. There is a staircase on the trail from Tew Falls to Dundas Peak.
A wheelchair-accessible lookout and paved trail area are available at Webster Falls.
Respect and share the trail with other users.  Follow directional signage on the loop trail at Dundas Peak
Respect neighbouring landowners by staying off private property, maintaining privacy for landowners, and avoiding excessive noise.