The Hamilton Conservation Authority has identified the parcel of land at 60 Arbour Road as surplus to the needs of the HCA.  Pursuant to Section 21(4) of the Conservation Authorities Act, the HCA is undertaking public consultation regarding this disposition.
The subject lands are located within the Niagara Escarpment Planning Area.
The proposed date of the disposition is no later than March 31, 2023
The HCA has obtained a Niagara Escarpment Plan Amendment that designates the parcel as Urban. Further, the City of Hamilton Official Plan and Zoning By-law designates and zones the parcel as Employment Area – Business Park and Prestige Business Park (M3) Zone respectively.  The parcel has been severed.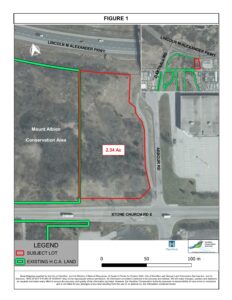 Consultation on this disposition will take place over a 45 day period with comments due by 4:30 pm February 21, 2023.
Comments should be provided by email to: scott.peck@conservationhamilton.ca