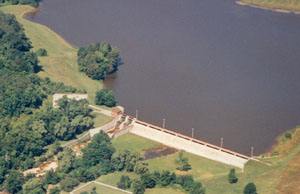 Water is the essential element necessary to all life, and how our communities prosper depends, to a large extent, on how we manage this all-important resource.
As the area's largest environmental agency, Hamilton Conservation Authority is dedicated to the conservation and enjoyment of watershed lands and water resources.
HCA employs a watershed approach to environmental management which is recognized as the world's most innovative, accountable, cost-effective water protection system.
The management of water is a big part of our mandate. Our conservation strategy "Healthy Streams...Healthy Communities" serves as an important reminder of our role in ensuring that Hamilton will become one of the healthiest communities in Ontario - not only environmentally, but also from an economic and social perspective.
Our vision of a healthy watershed is one that returns the following to its citizens:
Safe streams, without the threat of floods;
Environmentally-healthy streams;
The full protection of all significant natural areas;
Public ownership of large tracts of open space with connecting corridors;
Healthy recreational use of publicly-owned lands;
A second-to-none, multi-use trail network;
"Greener" urban cores;
Environmentally informed and committed citizens - young and old.
Our vision for a healthy watershed - with its inevitable environmental, social and economic benefits - is attainable, and we are committed to not only continue what we are doing now, but to substantially strengthen and accelerate our activities, including drinking water source protection planning.