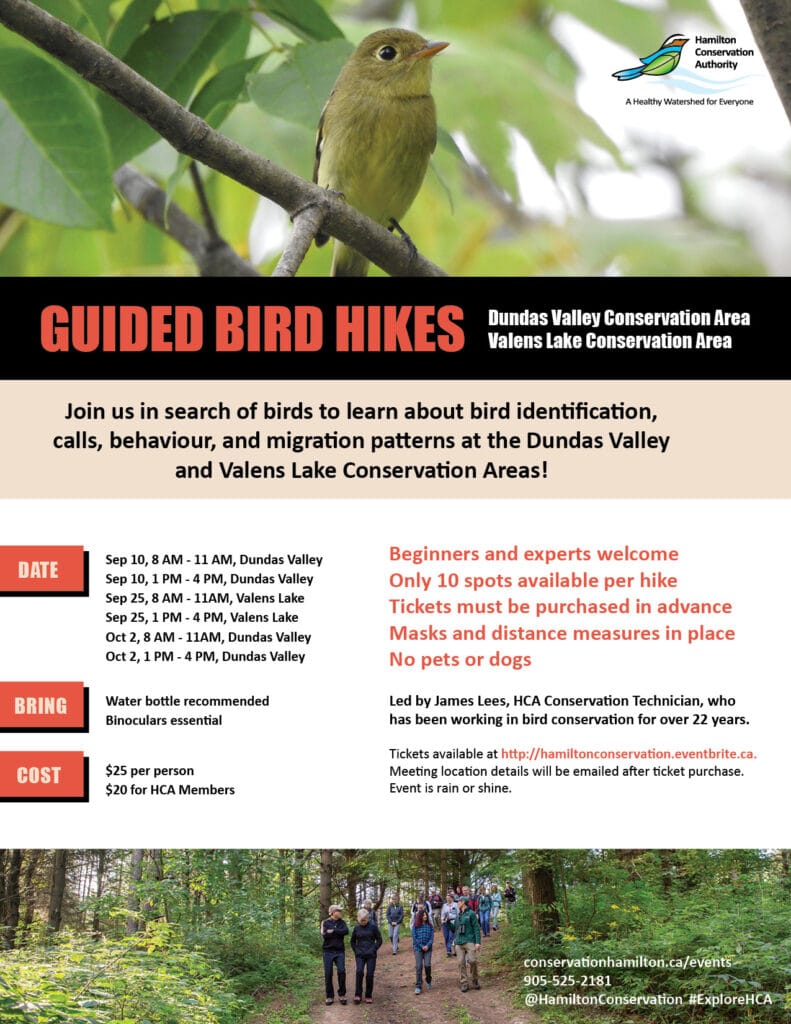 Join James Lees in search of birds and other wildlife at both the Dundas Valley and Valens Lake Conservation Areas. On these 3 hour hikes, we will search for resident birds and the many migrant birds that pass through our area each fall. Learn about bird identification, bird calls, behaviour and all about where the birds are coming from and where they are heading to.
October 2: 8 AM to 11 AM Dundas Valley Hike is FULL
The hikes will be led by our resident bird expert James Lees. James has been working in bird conservation for over 22 years both in the UK and here in Canada. He is an experienced wildlife guide and has led over 35 tours worldwide as well as hundreds locally. James works for the Hamilton Conservation Authority and is based in the Dundas Valley Conservation Area. Whether you are a beginner or an expert, everyone will take something away from this guided hike.
Cost is $25 per person or $20 for HCA membership passholders.
Like all places this year the HCA has made some changes to our events programs and how we operate them. We want to get people outdoors and enjoying nature in the safest way possible.  The safety precautions we ask you to observe on this hike are:
Group size for each hike is limited to 10 people.
Tickets must be paid for in advance
During the hikes, we will stay six feet apart or wear masks if this is not possible (please bring a mask to the event)
Objects like binoculars or fields guides must not be passed from one person to another.
We ask that if you have felt unwell in the last seven (7) days you remain at home.
For each hike, there will be a rain date given in case there is bad weather. The pace of the hike is moderate, terrain variable. Water bottle recommended and binoculars are essential. Unfortunately, dogs are not permitted at this event.