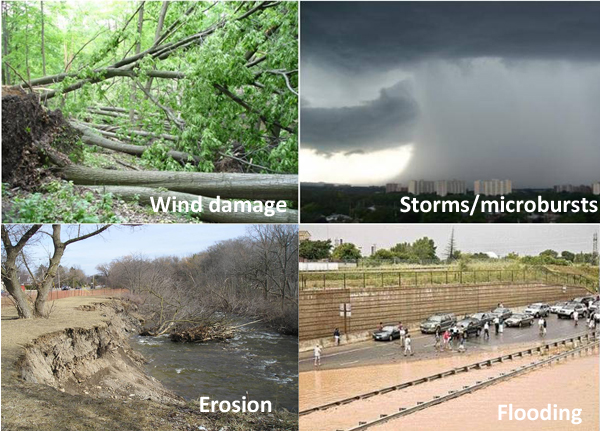 There is consensus among international scientists that climate change is occurring, that the impacts are already being felt in regions all around the world and that they will only get worse. "Impacts due to altered frequencies and intensities of extreme weather, climate and sea-level events are very likely to change" (IPCC, 2007). Even after implementing measures to reduce greenhouse gas emissions, some degree of climate change is inevitable and is already having economic, social and environmental impacts on communities. Developing an effective strategy for adaptation requires an understanding of our vulnerability to climate change.
The purpose therefore of an HCA strategy would be to build resiliency by strengthening HCA's capacity to develop and plan, in collaboration with other partners, short and longterm adaptation and mitigation actions designed to increase the climate resilience of the watersheds.
Here are some resources that help to explain what the HCA will be doing about climate change within our watershed:
Watch HCA's 7-Part Video Series – "Climate Change Here In Our Own Backyard"
Climate Change Charter
Hamilton Conservation Authority was one of the founding members to sign Ontario's first Community Action Climate Change Charter.  Visit the Climate Change Hamilton website.
City of Hamilton
The City of Hamilton is a member of the Federation of Canadian Municipalities' Partners for Climate Protection program, and has been participating with other municipalities in building the capacity of municipalities to address the challenge of meeting Canada's commitments to the Kyoto Protocol.
Conservation Ontario
Conservation Ontario's website contains information on what Ontario's 36 Conservation Authorities are facing with respect to climate change. Resources and presentations are available online for download.
Ontario Climate Consortium
Established in 2011, the OCC works collaboratively with university researchers and partners from the public, private and NGO sectors on projects aimed at answering specific questions related to climate change and creating the intelligence necessary to address climate risk. Its formal mission: To arm decision-makers with "regionally-specific climate data, intelligence and adaptation services that enable effective policy and investment responses to climate uncertainty in Ontario.  Ontario Climate Consortium website.