Winter brings a chance to rediscover camping
Posted December 7, 2015
---
Camping?  In the winter?  Are you nuts?  That's what I hear when I talk about visiting my local conservation area or Provincial Park to camp this time of year.  To be honest, I would say it too before I tried it.
It's probably the best time to go camping.  You get the pick of the litter when it comes to campsites, and you don't have to call a year in advance to book it!
It is so peaceful and beautiful this time of year.   The campsites aren't packed and you really only see the serious campers out, not the partiers like you get in the summer months.  The people that you do come across are also some of the nicest campers you will meet.  They're also there camping because they enjoy being outdoors and love the peaceful feeling of being in nature.  I've actually made some great friendships with families out at the parks.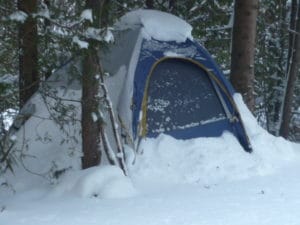 We've traveled with our new friends on camping trips throughout Southern Ontario.  We met at Valens Lake Conservation Area and frequent there the most as it is the closest and a bias favourite of mine.  There actually aren't that many camping spots open this time of year and Valens Lake is the closest in Southern Ontario.  In the winter, you still have most of the comforts of summer camping with laundry facilities, heated washrooms with flush toilets and hot showers.  Most of us have trailers now with heat and electricity, but you will see a true "Winter Warriors" camping out in a tent or hammock on these winter weekends.
It is always relaxing for me to come out and enjoy a non-stressful weekend away (even if it only took me 30 minutes to get away) after dealing with a very busy week.  The quiet winter days and nights at the park just let the stress melt away…and hopefully that's all that's melting.
We love that we've got to see some snow this year.  We've had one good cross country ski day and we're just itching to lace up our ice skates.  So, if you haven't given winter camping a try yet – don't knock it till you do.  Come prepared for the weather and you'll have an excellent time.
Author: Joanna Sanche, Assistant Superintendent, Valens Lake Conservation Area