Boxing Day Hiking
Posted December 22, 2017
---
Need to work off that big Christmas meal? Why not grab your friends & family and head out for a winter hike! Before you begin, it's important to remember winter safety when exploring areas. Please click here to learn more about winter safety in our conservation areas. So strap on your winter boots and bundle up in your warmest clothes – oh and don't forget to pack a thermos with some hot chocolate! Here are the best areas to go for a hike on Boxing Day: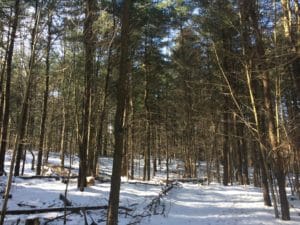 The valley offers 40km of trails & 6 main trails with access to others. The most popular of these being the main loop which is busy with fellow outdoor enthusiast on Boxing Day. Don't forget to stop for a photo in front of the picturesque Hermitage Ruins. If you're hiking with someone who has difficulty with hills, pushing a stroller or looking for an easy flat hike – try the Rail Trail which passes through the Dundas Valley.
Highlights of the 1,200-hectare conservation area include lush Carolinian forests, colourful meadows, cold-water streams, stunning geological formations and an array of rare plants, birds and wildlife.
Difficulty level: Moderate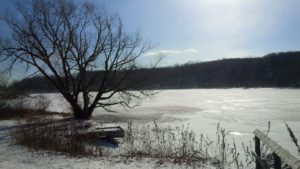 Are you you looking for more than just a hike on Boxing Day? Try Christie Lake! It's the perfect spot for skiing or snowshoeing. Explore pine plantations, circle the lake or head to the west side of Middletown Road to hike the Wildlife Area. Christie Lake never disappoints when it comes to nature!
Enjoy 10km of trails & 6 main trails with access to others. Please note Christie Lake is NEVER safe for on-ice activities due to the lake's quick current.
Difficulty Level: Easy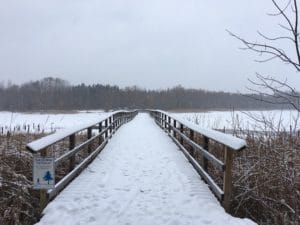 If you're willing to drive to a more remote area then you'll enjoy hiking at Valens Lake. Walk through the trees, with views of the frozen lake or cross the 300m boardwalk, fishing bridge or climb the observation tower for a stunning view of the surrounding area. With 10km of trails & 4 main trails you can easily spend an afternoon exploring Valens. Be sure to check the ice status before visiting! You can view it here.
Difficulty level: Easy
One of HCA's hidden gems is the Eramosa Karst containing 7+km of trails & 3 main trails with access to others. If you're searching for a quiet remote walk, this is the place to be! Filled with underground caves and streams, meadows and forests, the Eramosa Karst is one of the watershed's unique natural gems.
The Eramosa Karst also grants access to the East Mountain Trail Loop.
Difficulty Level: Easy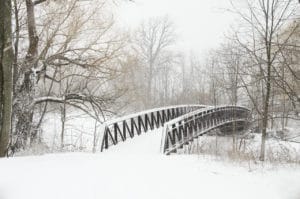 Enjoy a leisurely stroll along the waterfront of Lake Ontario at Confederation Beach Park! It's the perfect spot to walk with strollers or friends & family of all ages. There's also plenty of food options to stop in for a warm tea or hot meal.
The 4km trail is a paved and connects to the Waterfront Trail, running an additional 4.2 km west to Burlington. You'll also be able to access the Red Hill Valley Trail from the park.
Difficulty Level: Easy
For those living closer to the Grimsby area, you'll love walking the new 3km loop trail at Fifty Point! Bring your binoculars and stop for a lookout at the bird viewing platform or snap a photo of the lighthouse.
Difficulty Level: Easy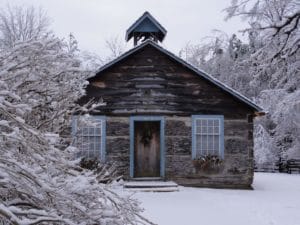 Take a step back in time and wander the historical village at Westfield Heritage! Walk the trail system which passes by a couple of ruins sites and through the forest. Westfield is the perfect spot to stop and have an impromptu photoshoot!
There's 4km of trail in addition to the village
Difficulty Level: Easy
To view our full list of conservation areas and trails please click here.
Wherever our trails lead you, HCA wishes you a safe and happy holidays!