Autumn From Above
Posted November 15, 2016
---
Fall is a wonderful time of year, with the clear crisp air and the beautifully coloured trees. From the ground, the colourful panoramas are magnificent. From the air, you get to see the broad canvas that Mother Nature has painted. Although just past the peak of the fall colour season, October 23 was a sunny clear day with light winds, ideal for a sightseeing flight to view the remaining colours from 2,500 feet. Leaving Brantford Municipal Airport, we flew east following Governors Road, heading for Confederation Park and the shores of Lake Ontario.
The first feature of HCA properties we came upon was the Hamilton to Brantford Rail Trail. Entering the bottom of the photo below, alongside Binkley Road, the rail trail bends to the left and heads toward the Dundas Valley Trail Centre.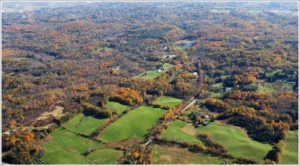 Looking closely amongst the fall colours, the HCA head office – Woodend – can be barely seen , identified mainly by the staff parking lot behind it.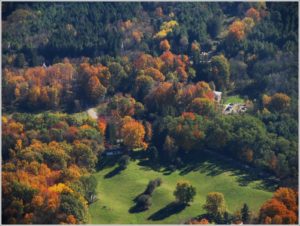 Next came the Dundas Valley Trail Centre.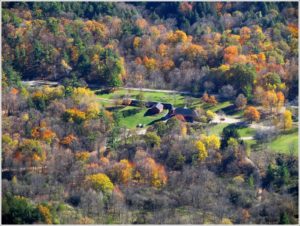 Looking down, you can see the entrance road from Governors Road leading to the main parking lot at the Trail Centre. The Rail Trail divides the middle of the photo. Across the Rail Trail, the opening in the forest created by the old Merrick Orchard is visible. The residents on Kirkwood Road in the bottom left have a great backyard!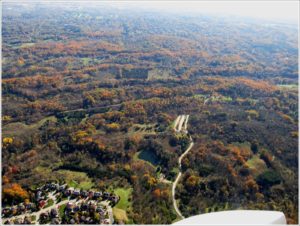 Looking north as we pass the Dundas Valley, the spectacular oranges and reds of the Spencer Gorge shine in the afternoon sunlight.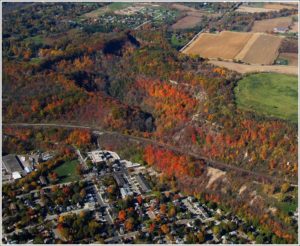 Reaching the Skyway Bridge, we prepare to turn right and follow the lakeshore. Directly below us is the Beach Strip community and in the distance, the large ponds across from Barangas are visible between the lakeshore and QEW.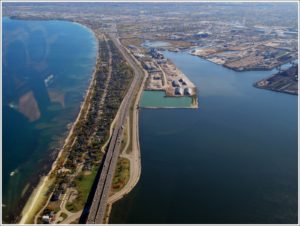 As we reach Confederation Park, I see Lakeland Centre and pool with the QEW/Red Hill junction above it.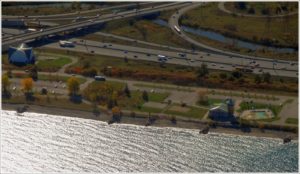 Although it is a relatively narrow strip of land there, it is still colourful as you enter the drive down the main entrance road into the park.
Willow Cove Pavilion and the old boat launch can also be seen long the lakeshore. Wild Waterworks is now closed, awaiting winter.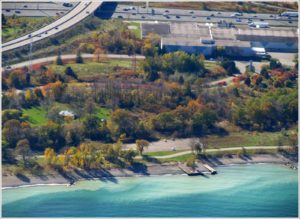 Looking back over Confederation Park, Stoney Creek Pond can be seen in the middle of the photo, with the old campground to the left, along with Grays Road crossing the QEW.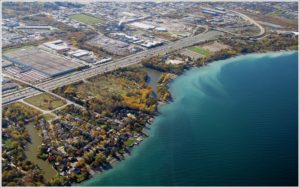 Fifty Point Conservation Area sits on the lake at the eastern edge of the HCA watershed, providing boat access to the lake as well as a beautiful beach for swimming.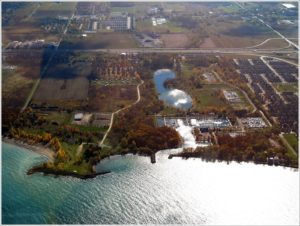 The colourful poplars, planted when the park was young, provide a golden backdrop to the beach.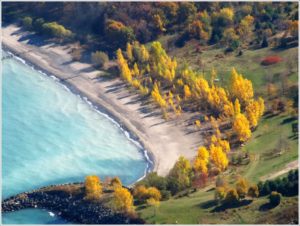 Author: Bruce Harschnitz, Superintendent, Confederation Park