As with many things this year our regular spring bird hikes were affected by Covid-19 but things had improved enough for us to allow them to go ahead in the fall.
James Lees, Conservation Area Technician, lead the guiding groups both in the Dundas Valley and Valens Lake Conservation Areas. All six guided hikes were well attended by both people and birds!
The hikes were timed around the peak of the return migration in September and early October. Both locations offer quite different opportunities for both birds and habitat.
The first two hikes at the Dundas Valley on the 10th of September yielded 50 species, 12 were species of Warblers. The warblers are always wonderful to see as they pass through from their breeding grounds in the boreal forests to their winter homes in the tropics. These tiny insect feeding birds come in every colour imaginable, Blackburnian Warblers were a particular treat. We also managed to find Hummingbirds, Scarlet Tanagers, Vireos and good numbers of Thrushes. It was a wonderful start to the season.
The second set of hikes took place at Valens Lake on the 25th of September. Despite the unfavorable south wind we still managed to find over 70 species. It really was a fantastic day for diversity with everything from Blue-winged Teals, Sora Rails, Warblers, Sparrows and Pine Siskins. We were able to marvel at some shorebirds like the Greater Yellowlegs. This large elegant shorebird breeds in Northern Canada and paused at Valens, for a rest during it's flight to Central America for the winter. But talk about birds to end a bird hike on, just as we were saying good bye an adult Bald Eagle soared over our heads!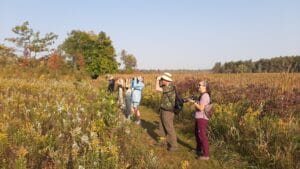 The final two hikes of the season were held at the Dundas Valley Conservation Area on the 2nd of October. This really was quite an exceptional day. We had the most perfect weather conditions to see active bird migration. It was so amazing that just in the parking lot where we met, tens of thousands of bird passed over us heading south on the morning hike. Thousands of American Robins, Blackbirds, Warblers and birds of prey constantly streamed over us, it was quite the spectacle. The afternoon hike was equally impressive but completely different to the morning hike. Now the tired migrants stopped heading south, but dropped down to vigorously feed for the afternoon. Really impressive numbers of warblers were seen all around us, many of which were rather late in the season. James, who has been birdwatching for 30 years, was blown away by the migration on both of these hikes.
"I was very excited to get the go ahead to lead more bird hike for the Hamilton Conservation Authority this fall. Guiding groups is certainly my favourite thing to do as I can combine my passion for teaching and for everything natural history. Southern Ontario and particularly the Hamilton area is one of the best spots to see bird migration in North America. We are very lucky that not only do our conservation areas allow many birds to breed and winter, but  they are also situated perfectly to witness migration.  I would like to thank everyone who attended the bird hikes this fall; all the groups were excellent company and I thoroughly enjoyed guiding. We were very fortune to see both, a large diversity of birds, and also witness some incredible migration. There is nothing more amazing than watching a small song bird, weighing only 5 grams travelling at 30km soar over your head, and be able to share it with a group of like minded individuals. I look forward to more bird hikes and to see many more familiar faces and perhaps some new ones,  next year." ~ James Lees.
Want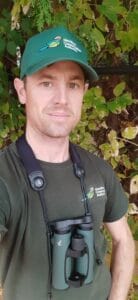 to learn more about birding? Follow James S Lees, on Instagram or twitter to get more tips and information on migration and birding.
Testimonials 
On October 2nd, my husband, best friend and I went on a birding hike with James Lees. It was great — as expected. This was the third hike my husband and I have done with James and a first for my friend, who travelled all the way from Toronto to attend. We belong to the Hamilton Naturalists Club as well, yet I have to say, these birding events are better even though the HNC events are free. We would love to see HCA do MORE bird hikes. We always see and hear more birds than we would on our own and learn about birding firsthand — I can't say enough good things about the birding events. More please.
~Morag Johnston
 I wanted to express my appreciation (and admiration) for James Lees' guided walks. I am a very amateur bird watcher with a multitude of birds in my back garden. This was the first time I had taken a walk with a professional ornithologist and he opened my eyes (literally) to an entirely new world. His knowledge is vast and impeccable and perhaps a bit trite to say but his enthusiasm is infectious; other words fail me. I look  forward to the possibility of a future hike with him. Thanks for offering this program.
~Jeff Dahl