Water Quality Monitoring
The Hamilton Conservation Authority is involved in ground and surface water quality monitoring. This page contains the latest information on those initiatives.
Ground Water Monitoring
The HCA began its study of the region's groundwater as part of a new province-wide monitoring program.
The data collected from monitoring stations in greater Hamilton and elsewhere across the province will lead to more informed decisions on land use planning, drought management measures, water taking capacity, and protection of drinking and agricultural water supplies.
The $6 million program involving Ontario's 36 conservation authorities and the Ministry of Environment was developed largely as a response to the drought-like conditions in 1998-99 and the critical questions it raised about the quantity and health of the province's groundwater.
Currently, only inadequate core data exists on groundwater conditions. This poses significant barriers when addressing changes in groundwater quality and quantity, and the causes of those changes.
The findings from new monitoring activities will help municipalities and the province manage competing demands for groundwater supplies and guard against contamination, whether natural or man-made.
Key elements of the program include: the mapping of aquifers; installing 380 electronic instruments to monitor water levels across the province; periodic chemical analysis of water samples; and the establishment of a groundwater information database. The HCA and its sister authorities are assisting in the design, operation and maintenance of the system.
Within the HCA, there are 9 groundwater wells that collect data on both groundwater quantity and quality. Quarterly, groundwater level data are downloaded from the wells and processed for analysis. Annually, the groundwater levels are sampled for groundwater quality testing.
Although groundwater study is a new role for the HCA, it will be an excellent complement to its current watershed management activities and recent involvement in surface water studies (see next item).
Surface Water Monitoring
BioMAP helps determine the health of surface water by studying the number and variety of small aquatic animals, insects and invertebrates at various spots along a creek. Something in the water is likely amiss if organisms are not found in areas of the creek where they are typically known to reside.The HCA monitors the quality of surface water through a program known as BioMAP.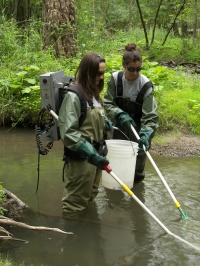 The advantages of BioMAP as a water-quality assessment tool are its simplicity and cost. Instead of starting with expensive chemical testing, volunteers and students can easily collect the needed samples and compile the data. Chemical testing may then be ordered if data suggests impairment in the stream.
To date, the HCA has conducted BioMAP water-quality assessments with help from McMaster University students and local volunteers. Dr. Ron Griffiths, a zoology professor at the University of Guelph and creator of the BioMAP protocol, has also been involved in the project.
Water-quality monitoring is integral to the HCA's watershed planning and management work because conditions impact water supply, aesthetics, recreational uses and fisheries.
Monitoring also provides insight into water quality conditions in Hamilton Harbour and Cootes Paradise. Both are influenced by conditions in the upper reaches of their tributaries, particularly Cootes Paradise which receives 54 per cent of its stream water from Spencer Creek.
BioMAP Results
In 2001, surface water quality studies were performed in the Spencer Creek Watershed at eleven monitoring sites including Spencer Creek, Sulphur Creek, Tiffany Creek, Hermitage Creek, Spring Creek, Flamborough Creek, Logies Creek, Borer's Creek and Idlewyld Creek
BioMAP water quality assessments will continue to monitor existing sites in new areas identified by conservation authority staff as warranting testing.