Provincial Water Quality Monitoring Network
Provincial Groundwater Monitoring Network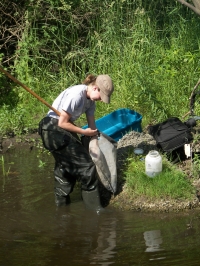 HCA participates in the Provincial Water Quality Monitoring Network by taking water samples from various creeks and streams on a monthly basis. Water quality samples are taken at seven sites within the HCA watershed from April to November and are analyzed for water chemistry by the Ontario Ministry of the Environment and the City of Hamilton.
In response to the need for a better understanding of Ontario's groundwater resources, the Provincial Groundwater Monitoring Network was established in 2001 to monitor the quantity and quality of our groundwater.
Within the HCA, there are 9 groundwater wells that collect data on both groundwater quantity and quality. Quarterly, groundwater level data are downloaded from the wells and processed for analysis. Annually, the groundwater levels are sampled for groundwater quality testing.
Streamflow Monitoring
The HCA, in partnership with the Water Survey of Canada, maintains ten streamflow recording stations located across the HCA. Streamflow monitoring allows the HCA to assess water resource conditions within our watersheds and enables us to detect flooding and drought events.
Precipitation Monitoring
Rainfall and snowfall are measured using precipitation gauges located at 6 stations throughout the HCA watershed. Monitoring rainfall allows us to predict how streamflow will respond to storm events and assist in flood forecasting/warnings and drought monitoring.
Snowpack Monitoring
During the winter, the HCA conducts snow sampling at four locations within the conservation authority to assess snowpack conditions.  This information is used for water resource monitoring and to predict soil moisture conditions and stream runoff during the snowmelt season in the spring.