The Niagara Escarpment is recognized as one of the world's unique natural wonders. It runs through the City of Hamilton region, around the tip of Lake Ontario, northwest to Tobermory. It offers many breathtaking views and wide vistas of the region along with a multitude of waterfalls.
Hamilton Conservation Lands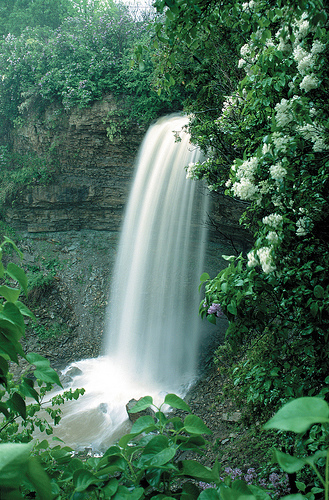 Borer's Falls
This conservation area contains forested land and informal trails. The area adjoins the tablelands owned by the Royal Botanical Gardens at Rock Chapel, above the escarpment. Location: Rock Chapel Road, west of Highway 6, and south from Highway 5.
Beverly Swamp
This large, hardwood swamp is primarily a water management project. It has great water retention characteristics and contains a rich diversity of plant and animal life, including some that are rare to this region. It also includes plants from Carolinian Canada. Access is limited.
Location: Concession 8, just off Regional Road 552 or Highway 6, in Flamborough.
Devil's Punch Bowl
This Niagara Escarpment natural area contains one of the best exposures of the various sedimentary rock layers in the watershed. It provides great views of Stoney Creek, Hamilton and Lake Ontario.
Location: Ridge Road, East of Highway 20
Felker's Falls
This natural area atop the Niagara Escarpment features trails, scenic vantage points and landscaping. The Peter Street Trail, a special trail for the disabled, is one of the highlights of Felker's Falls.
Location: North of Mud Street off Paramount Drive on Ackland Street, Stoney Creek
Iroquoia Heights
This Niagara Escarpment natural area contains a mix of regionally important biological habitats. The conservation area features passive recreation, including trails and views of Lake Ontario and the Hamilton/Dundas areas.
Location: Lincoln Alexander Expressway East to Mohawk Road/Golf Links Exit. Left at the light. First left over bridge on Old Mohawk Road. Follow signs.
Summit Muskeg Preserve
This is a biologically significant bog. It contains plants that are representative of Arctic muskeg vegetation, such as cranberries, pitcher plants, and sundew plants. "Summit Bog" is a wetland containing an island of sphagnum moss floating atop a bed of peat. Plants that prefer wet, acidic, and nutrient-poor conditions grow in and around the area. Because of its sensitivity, public use is not encouraged.  However, the bog can be viewed from the Hamilton-to-Brantford Rail Trail, located just east of Highway 52 at Copetown.
Location: Highway 52, between highway 8 and the 403. Use Hwy 52 Parking lot for the Hamilton-to-Brantford rail Trail.
Sherman Falls
Located on private property along the Bruce Trail, this is where Ancaster Creek flows over the Niagara Escarpment. This waterfall, fed by springs from its headwaters, has a strong, continuous flow. The trail continues on to Tiffany Creek.
Location: Old Ancaster/Dundas Road and Upper Lions Club Road in Ancaster.
Spencer Gorge/Webster Falls Conservation Area
This Niagara Escarpment property provides public access to Tew Falls and Webster Falls Park. It contains spectacular vistas over the gorge areas for both waterfalls. A trail allows access to the Dundas Peak, which overlooks Dundas and Hamilton. Many important plant species reside in the gorge and it is an excellent spot to view soaring raptors during migration.
Location: Take Hwy 5, W of Hwy 6, S on Brock Road, E on Harvest Road to Tew Falls (Buses must use this entrance for both Spencer Gorge and Webster Falls)
Location: On Highway 2, between Ancaster and West Hamilton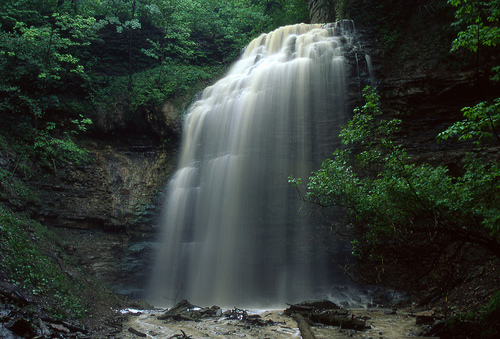 Tiffany Falls
This falls is surrounded by typical Bruce Trail terrain: rocks to step over and steep descents. Tiffany Creek tumbles 6.5 metres from a broad valley above the escarpment into a V-shaped ravine below. A short side trail leads you to the waterfall.
Conservation Halton Lands - For more information, call 905-336-1158
Hilton Falls
Campbellville Road, Milton, at Hilton Falls Conservation Area
Rattlesnake Point
5 scenic lookouts on the Niagara Escarpment at Appleby Line, in Milton
Nassagaweya Canyon
Crawford Lake at Steeles Avenue and Guelph Line, in Milton.
Blue Heron Lookout
Tower overlooks 202-hectare reservoir at Mountsberg Conservation Area on Milborough Townline, W of Campbelleville.
Mount Nemo Lookout
At Mount Nemo Conservation Area on Guelph Line and Colling Road in Burlington.
Niagara Peninsula Conservation Lands - For more information, call 905-788-3135
Ball's Falls
Off Victoria Avenue, Vineland
Beamer Memorial
Ridge Road, Grimsby
Rockway Falls
Regional Road 669, Lincoln
Louth Falls
Seventh Avenue, Lincoln
Decew Falls
Decew Road, Thorold
Grand River Conservation Lands - For more information, call 519-621-2761
Elora Gorge
5 km of trails lead to scenic views of the gorge. On Bloomingdale Road, S of the village of Elora. Please stay a safe distance from the edges of the gorge.
Murray Overlook
On the Cambridge to Paris Rail Trail, near the village of Glen Morris, overlooking the Grand River Valley.