Master Plans
The Hamilton Conservation Authority owns and manages over 4,443 hectares of conservation land across the region. For most areas, master plans have been created to help the HCA manage and protect lands consistently over time.
A master plan serves several important functions: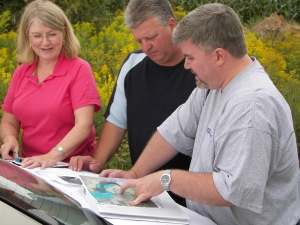 it informs the public of the purpose of the park and how the management of the subject lands will protect its natural resources and in some cases provide recreational opportunities.
it illustrates the essential organization of the park including vehicle/pedestrian circulation and the spatial relationships of use areas and zones of conservation.
it provides a framework for phasing the implementation of the components of the plan - components such as parking areas, information kiosks, buildings or ecosystem rehabilitation works.
The development of a master plan is a thorough and exhaustive process. HCA planners and engineers may spend months drafting a plan, working in close consultation with the governing Board of Directors and its committees (whose members consist of elected municipal representatives and appointed residents). The public also plays an integral role throughout the planning stage by providing comment at "open house" meetings and through presentations to the Board of Directors.
The master plan process is always on-going. Just as one is completed others are being developed and/or reviewed. Reviews happen roughly every 10 years - a necessary task given the propensity for change in public demand and environmental factors.