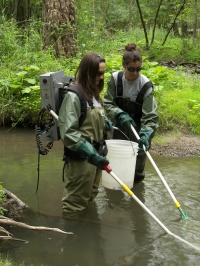 Hamilton Conservation Authority (HCA) is finalizing a major fisheries management plan that will create long-range benefits for the areas' waterways and ensure a healthy tradition of fishing continues for generations to come.
The plan reviews all existing fisheries data in the HCA watershed to classify streams based on provincial standards. It also identifies all data gaps. The report will be instrumental in assisting in a number of strategic initiatives, including recommending where habitat improvements could be made, as well as how to enhance sport fishing at HCA reservoirs, such as Valens and Christie Lake.
HCA contracted environmental consulting firm LGL Ltd. of Burlington to prepare the plan encompassing the hundreds of kilometers of streams within HCA's watershed. Using fisheries data given by HCA and the Ontario Ministry of Natural Resources, LGL entered the information into a GIS (geographic information system) mapping system for analysis. The report identifies data gaps in the information, location of the best quality streams, where problems exist, and how to alleviate those problems.
Aside from providing better fish habitats, the plan will also help HCA determine how to best protect streams from disturbances such as building development.