The 2,400-hectare Beverly Swamp spans three watersheds - Fairchild, Spencer and Bronte creeks - and offers one of the best and largest lowland swamp forest representations in south central Ontario.  Almost half of it is HCA-owned.  Parts of it can be accessed by hiking the Lafarge 2000 Trail in the northwest end of the watershed.
 This wetland is the source area for Spencer, Grindstone and Fairchild creeks and features a rich diversity of plant and animal life, including some that are rare to the Hamilton region.
This unique Area of Natural and Scientific Interest (ANSI) was inventoried for protection by the Hamilton Naturalists' Club, which also contributed toward land acquisition.  The area functions as a natural sponge, maintaining hydrological balance over a large area and draining into both Lake Erie and Ontario. 
Extending 9 miles across the Flamborough area of Hamilton, it is a Class 1 wetland - the highest designation given to Ontario wetlands - and has pristine areas of red and silver maple, white cedar forests, and cold water streams containing brook trout.    
About 30 inches of precipitation fall annually on the swamp, providing 15,000 acre-feet of water - that's two-and-a-half feet of water for every acre of the Beverly Swamp.  This water soaks down to raise the ground water table or is taken up by plant growth or discharges into the streams that arise here.
There are strong ecological benefits to preserving this land.  Only two other swamps reach the magnitude of the Beverly Swamp in southwestern and south central Ontario - the Minesing Swamp near Barrie, and the Greenock Swamp near Teeswater.
So many significant species of plants and animals live in the Beverly Swamp that it is difficult to know where to begin.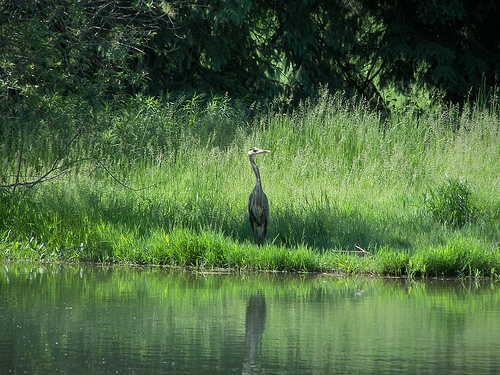 This huge natural area is home to rare species from Red-shouldered Hawks to Northern Flying Squirrels, and from Grass-pink Orchids to Blanding's Turtles.  Southern Carolinian plants like green violet, and northern species like balsam fir and black spruce, mingle in this diverse natural area.  There are 437 types of plants, 12 species of reptiles and amphibians, 90 nesting bird species and 14 mammal species.
Swamps of Silver Maple, cedar, aspen, treed bog, cattail marsh, sedge meadows and open ponds create a diverse wetland community, supporting a wide range of wildlife, including Snowshoe Hare, Deer Mouse, Porcupine, Northern Water Shrew, significant breeding birds, Pickerel Frogs, Brook Trout and Green Sunfish. 
Since the swamp attracts a multitude of animals, it is excellent for bird watching and fishing.
The swamp is made up of layers, which include peat on the surface and then, marl, sand, clay, silt, gravel, and dolomite rock bed. It was created by the existence of the impermeable marl layer which is approximately 1/2 meter thick with approximately one meter of peat moss above it. The marl restricts the flow of water and traps it in the peat layer. Thus, most of the hydrological or water activity occurs in the peat layer and it is a natural water storage area for Spencer Creek.
Sixty per cent of Beverly Swamp is held in private ownership.  Hamilton, Halton and the Grand River Conservation Authorities encourage conservation and good watershed stewardship in the area.